Ashland Food Co-op Vision
Joyfully working together
Delighting shoppers
Enhancing health
Enriching community
Ashland Food Co-op Mission
The Ashland Food Co-op exists to serve our owners and our community by:
operating a socially responsible business that provides a full selection of natural foods and quality products
emphasizing locally produced, organically grown and ecologically sound products
offering a variety of necessities at basic prices
providing friendly, knowledgeable customer service
promoting awareness about food, nutrition, and health
providing a workplace that fosters opportunities for participation, empowerment and growth in an environment of mutual respect and cooperation

From our humble beginnings in 1971 as a food-buying club to our current status as Southern Oregon's first and only Certified Organic Retailer, over 10,000 members strong, the Ashland Food Co-op has been connecting our community to healthy, local food for decades. With passion, purpose, and a whole lot of love, we're more than just a grocery store. We're at the center of a movement. In fact, we're on a mission to change the world.
Our cooperative business model is at the core of all we do. Quite simply, we place people, principles, and the planet before profit—always. Our exceptionally high standards give customers confidence, knowing that we prioritize our relationships with local farmers and food producers first and fill our store with healthy products you can trust.
Park your pooch, fill your shopping cart, catch up with an old friend, grab a healthy snack, learn something new, or just sit out front, or in the deli, and watch the world go by.
Everyone is welcome at the Ashland Food Co-op.
1971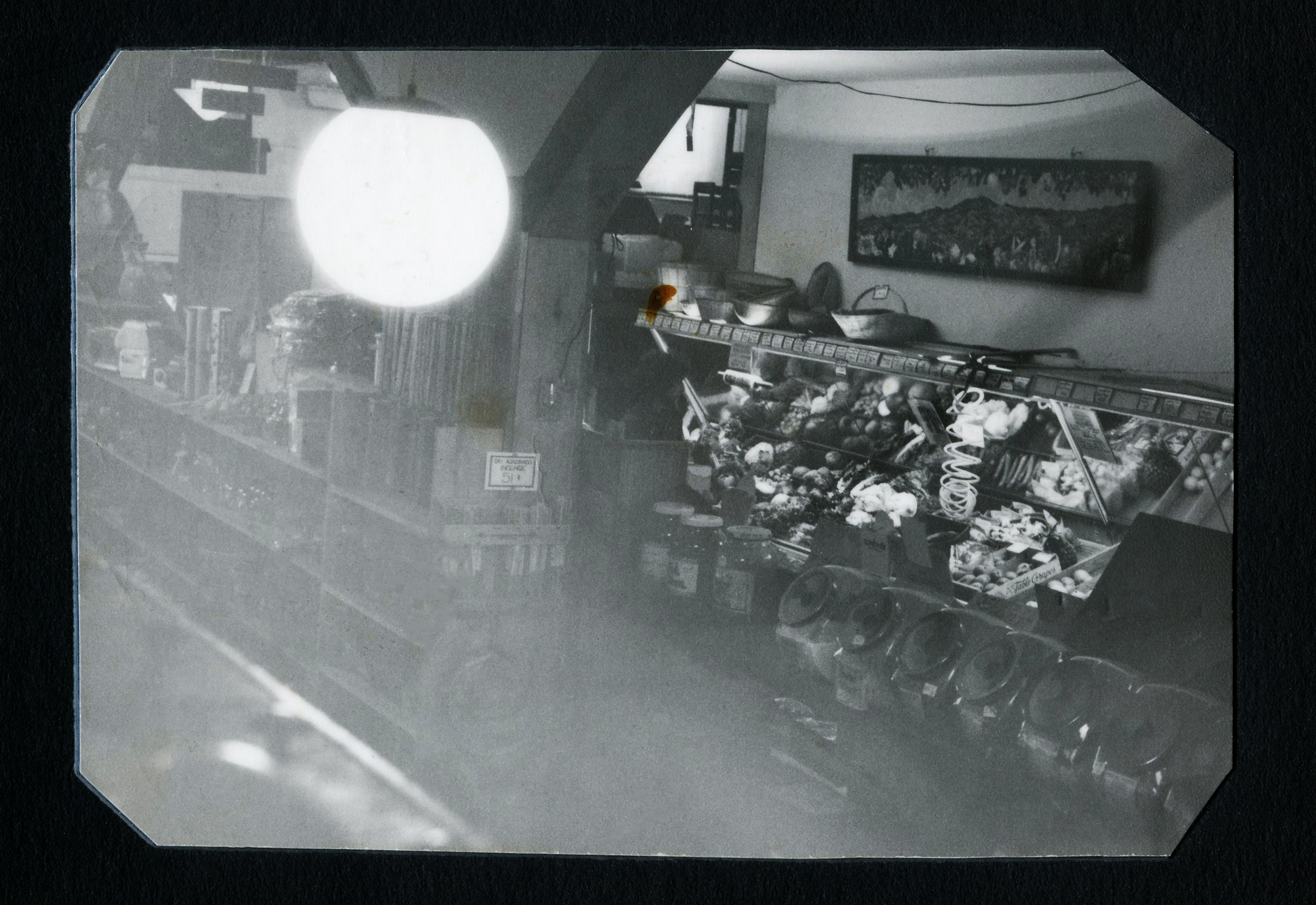 A small group of Ashland families join together to form a food buying club.
1972
Membership grows rapidly and within a year's time the first storefront opens on North Main.
1970's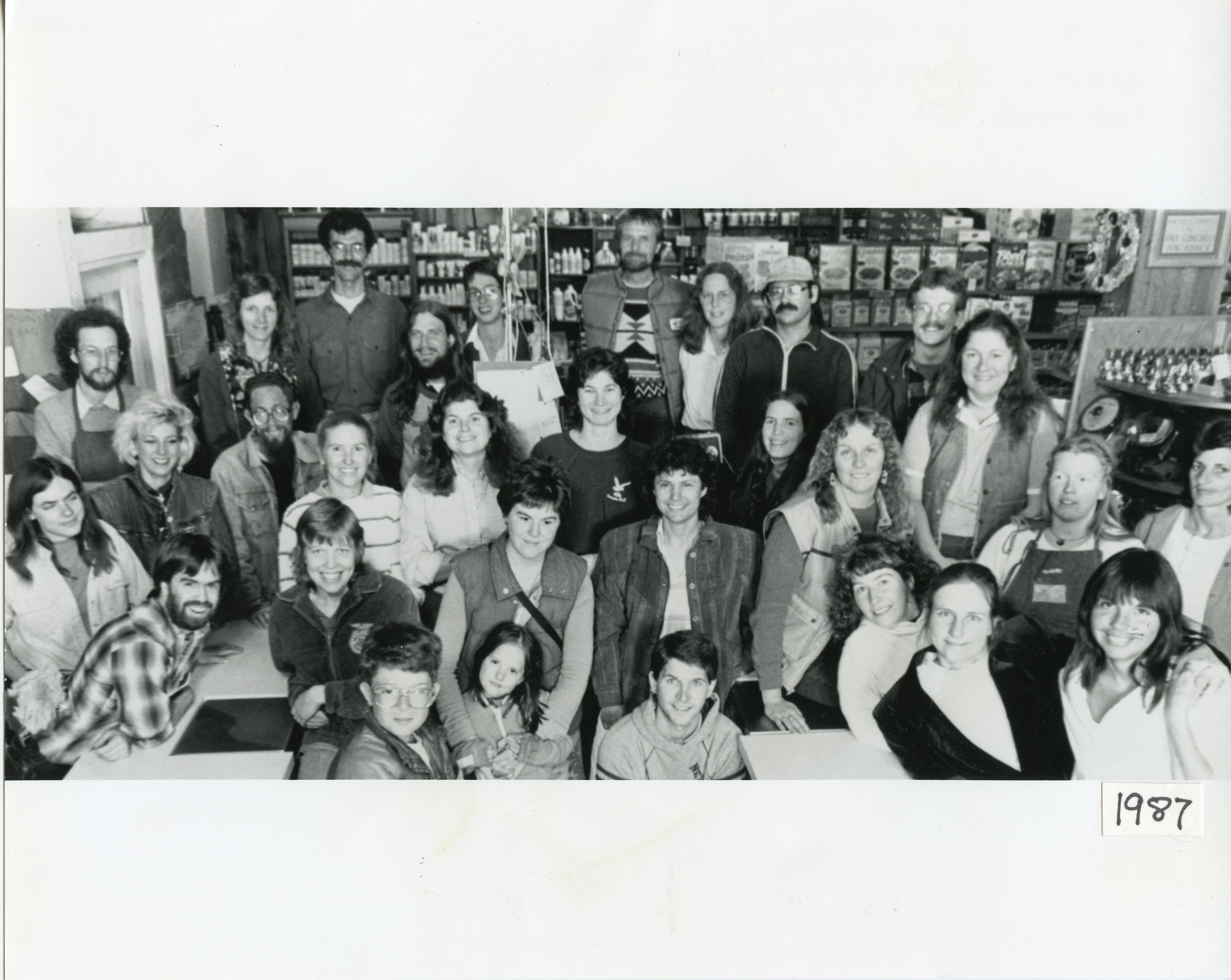 Mid 1970's - Growth continues and operations moved to a larger location on 3rd and Lithia Way.
1980's
Volunteer labor was phased out. Hired paid staff and first GM to meet the growing needs of the store.
1988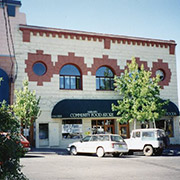 Store remodeled adding more retail, office and warehouse space.
1993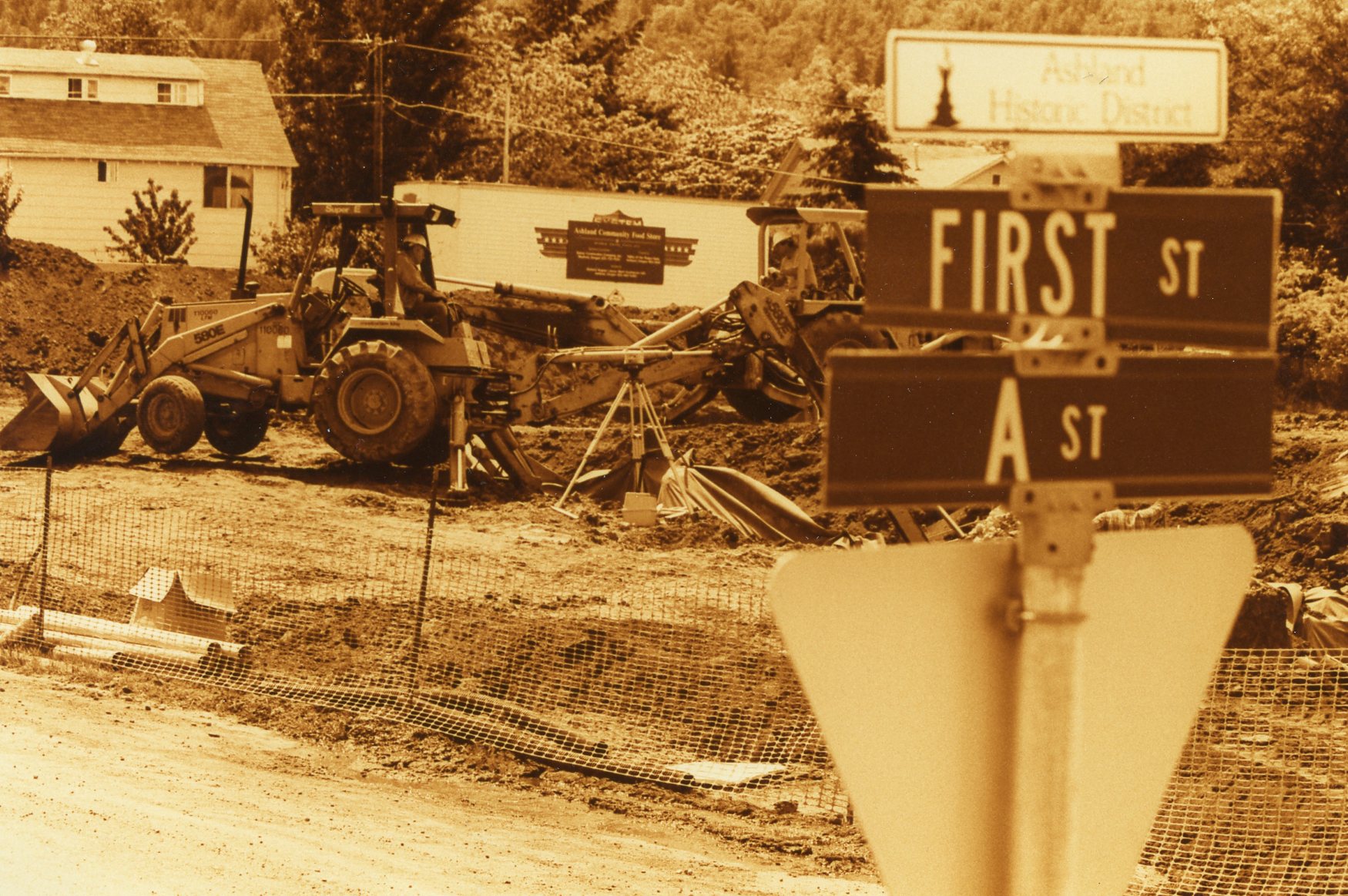 Break ground on current store.
1993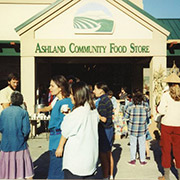 Grand opening of new store at 237 N. First Street!
2002
Expansion of facility to include 4,500 additional sq. ft. with expanded deli, juice and java bar, larger produce dept. and added a meat & seafood dept.
2003
Re-incorporated as cooperative enterprise and begin taking memberships in our newly formed co-op.
Today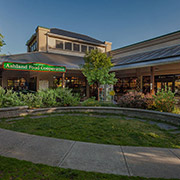 Over 10,000 owners. Strong and growing!
Fresh, healthy, organic food doesn't have to be expensive.
Since 1971, the Ashland Food Co-op has been helping people feed their families on a budget. As a member of National Co+op Grocers (NCG), we've leveraged our collective buying power to offer lower prices on healthy, organic food and pass even more savings on to you.
Enter Co+op Basics. We've lowered prices on more than 450 pantry and household staples to make organic, healthy food accessible to every shopper. From the pantry to the medicine cabinet, we're keeping healthy living affordable with Co+op Basics.

Our 2030 Vision
We're on a mission to change how business operates - by putting the planet and people before profit. 
In 2007, an owner-driven strategic objective was established to improve our commitment to sustainability. We started down the path to becoming a fully sustainable business by 2030, using a framework offered by The Natural Step.
By the start of the next decade, the Ashland Food Co-op will be zero waste and carbon neutral, a living model of cooperation with the laws of nature in all our affairs. 
Our 2030 Goals:
As a zero-waste facility, we will minimize waste intake and maximize beneficial reuse and diversion from landfill.
We will be carbon neutral, conserve energy, and 100% powered by renewable energy.
We will use no persistent chemicals.
We will model sustainability, justice, and equity in all of our relationships with employees, vendors, community, and other co-ops.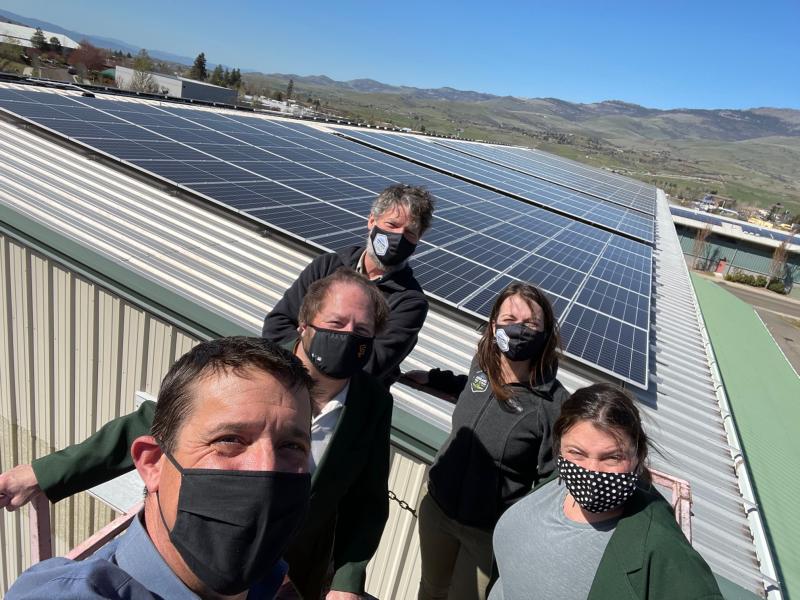 Energy Management
The Co-op is an EPA Green Power Partner. This means we only use energy from renewable sources to power store operations. 
We have three solar arrays - one on the roof of the main store, one on the barn, and a virtual net metering array at Oak Street Tank and Steel. It is estimated that we can produce up to 48% of our annual electricity needs from our solar projects! 
See our Solar Production Live at the Oak Street Tank and Steel Solar Array
For our remaining electricity needs, we purchase Renewable Energy Certificates from Bonneville Environmental Foundation, and offset all of our business-travel carbon emissions. We purchase Water Restoration Certificates to lessen the impact on critically dewatered rivers in our region. Through our Greenhouse Gas Emissions calculations, we are offsetting 100% of our Scope 1 and market-based Scope 2 emissions.
We are proud to participate in Energy Trust of Oregon's Strategic Energy Management program to reduce natural gas. In 2020, we reduced our use of natural gas by 5.8%! 
Click here to read more about the Co-op's energy policy, adopted in 2019.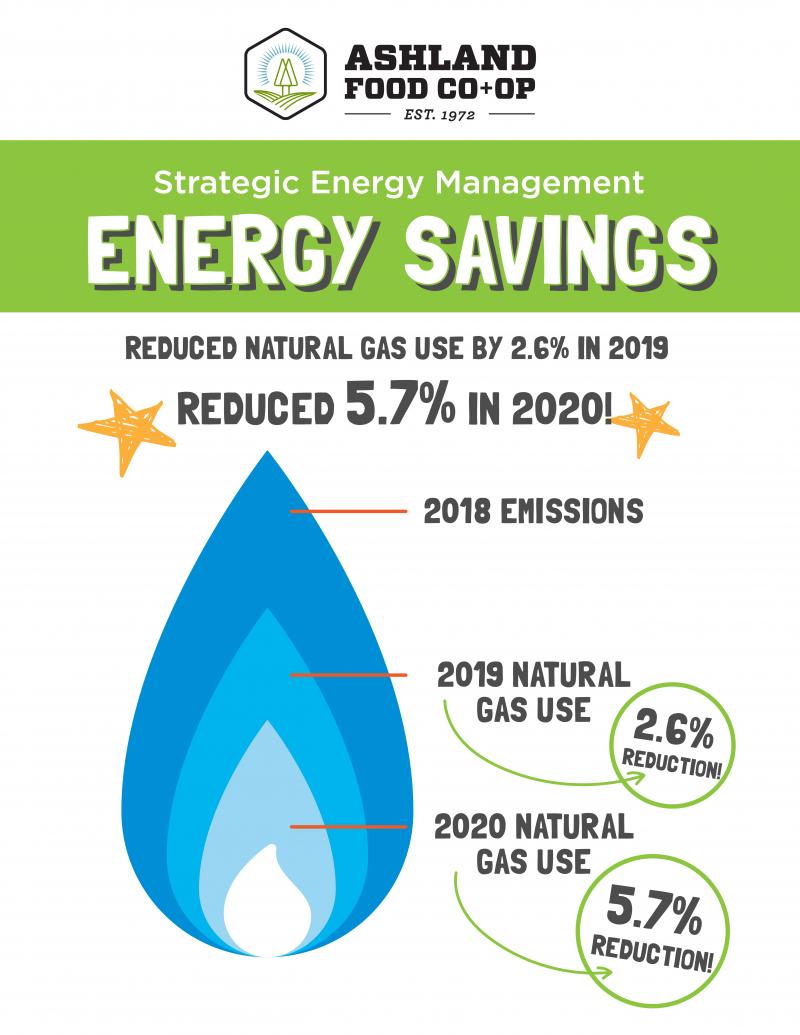 Zero Waste
As of 2020, we were able to divert more than 82% (that's 731 tons!) of our waste away from the landfill! We have a well-established in-store recycling infrastructure and provide recycling education for staff. 
We offer discounted, imperfect produce to customers and our employees. For many years, the Co-op has donated imperfect produce to the Ashland Food Angels, which helps organizations serving low income people in the Rogue Valley, primarily through the daily collection and redistribution of food retrieved from markets, bakeries and local organic farmers.

Our pre-consumer food scraps are used by local farmers as animal fodder and compost material.
Be Part of the Solution
The impact of our efforts increase when we work together! We encourage our members to help us reduce unnecessary waste by taking action in the following ways:
Use Rogue To Go containers
Pay a one-time fee of $10 and enjoy your meals on the go in a reusable container - and save 15¢ off the cost of your meal. Choose between a clamshell or soup container, made in Oregon and upcycled at the end of life. You can use a RTG container at many restaurants in Southern Oregon. Visit the Rogue To Go website to see all participating restaurants!
Bring Reusable Bags and Totes
Remember to bring your grocery totes and reusable produce bags. We offer cotton or upcycled plastic reusable bags in the Produce department. By using these bags, our member-owners have reduced annual single-use plastic bag usage by over 100,000! 
Recycle It Right
Know your recycling. If there is any food contamination, it can't be recycled! 
NON-Recyclable items include: egg cartons, all lids, and all certified compostable service wares like our to-go boxes, single-use coffee cups, or utensils.
There are no industrial composting facilities in Oregon that will take compostable wares! Make sure to choose to reuse, otherwise it goes in the trash. 
Bicycle Benefits
Participate in our Bicycle Benefits program. Pay a one-time $5 fee, receive a sticker for your helmet, bike to the Co-op and save 5% on your shop.
Opt Out of Paper Receipts
As a member-owner, you can opt out of paper receipts and get them emailed to you instead. 
We look forward to opportunities to support good work in our community.
If you have further questions please feel welcome to email [email protected].


Each year, we set aside a percentage of sales from the previous year to fund the Community Grants. These funds support local projects that align with our vision of enhancing health and enriching the community while promoting our mission to provide education about food, the environment, nutrition, and health.
In 2022, we proudly donated over $25,000 to 17 area nonprofit organizations doing excellent work in our community.
Community Grants are closed for 2023. Please sign up for our AFC Gives email list to stay up to date with our giving programs.
AFC Gives Community Grant application review process:
Once a grant application is submitted, it undergoes a careful review process by the AFC Gives Committee, which is composed of a mix of Co-op Owner Members, Employees, and Board Members. Each application is independently reviewed by committee members over the course of a three week period and scored using an extensive rubric. At this time, small working groups of committee members meet to more closely review and research each application. After the review period, the full committee reconvenes to hear presentations from each working group and to compare rubric scores. Thorough discussion takes place to determine fund allocation and proposal prioritization. Final decisions are decided by an official vote. The AFC Gives Committee is always mindful of avoiding conflicts of interest, and when necessary, committee members will abstain from a vote depending on their community involvement with an organization. If you have any further questions about the AFC Gives Community Grant Review process, you may email [email protected] For information about the Change for Good program, please click here.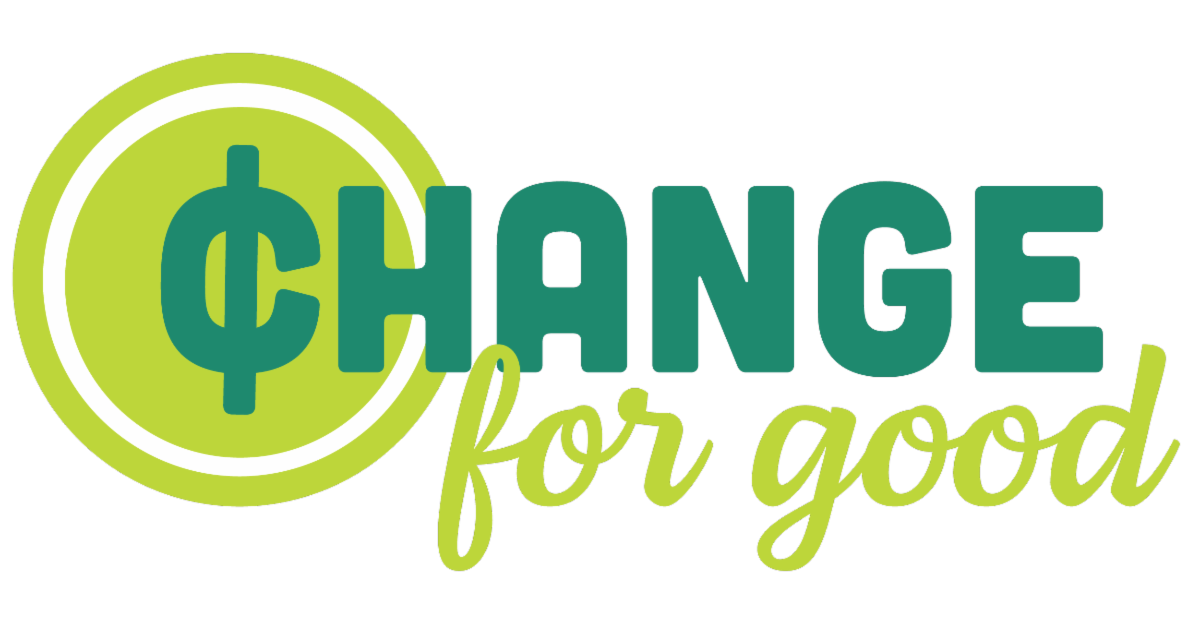 2020 was the first year of the Change for Good partnership, a monthly register round-up program to benefit local organizations voted on by Co-op owners. The cumulative donations of shoppers choosing to round-up their register total to the nearest dollar makes positive change for our community, cents at a time (it just makes sense!)
Donations and Sponsorships
The Ashland Food Co-op believes in helping those who do great things, and people like you make it happen. By shopping at the Co-op, your food dollars support a vibrant local community. We're delighted to pay it forward by helping those who are committed to making the world a better place.
With that in mind, we give one $25 gift card per year to eligible organizations in support of the valuable work they do through our donations program, and we also appreciate supporting our local theater, arts, sports, and wellness events through sponsorships when we are able to. If you are seeking support via donation or sponsorship, please see below for more information about these opportunities.
If you and your local non profit organization are seeking community grants or are interested in our Change for Good program, click here and make sure to sign up for email notifications for when their applications open. These funding opportunities are organized by our AFC Gives committee that looks forward to opportunities to support good work in our community.
Donation Request Program
The Ashland Food Co-op is honored to support local nonprofits. We give one $25 gift card per year to eligible organizations in support of the valuable work they do.
We are delighted to help those who are working to make our world a better place. Thank you for all that you do for our community and making cooperation a priority.
Please submit requests by filling out this request form online, at least 30 days before your event. Approved gift cards will be mailed to the address provided in the Donation Request Form.
Please email [email protected] with any questions you may have.