Creamy Tomato Soup Shooters with Grilled Brie
The classic combo of tomato soup and grilled cheese gets a stylish makeover—perfect for entertaining.
Recipe from Co+op, Welcome to the Table
Meal Type
Salads & Soups
Side Dishes
Snacks & Dips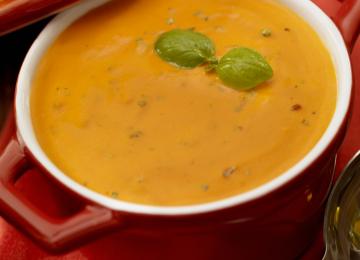 Ingredients
1 large onion, chopped
1 clove garlic, chopped
1 tablespoon olive oil
2 tablespoons unbleached flour
1 28-ounce can whole peeled tomatoes with juice
1 cup half and half
1 tablespoon fresh rosemary, plus more for garnish
1/2 teaspoon salt, to taste
1/2 teaspoon freshly ground black pepper
6 slices sandwich bread
Butter
12 ounces brie cheese, rind removed, sliced
2 medium scallions, chopped
1
Saute onion and garlic in olive oil until softened and clear about 10 minutes. Sprinkle the flour over the onions in the pan and stir to incorporate. Keep stirring over medium low heat for 2 minutes. Transfer to a blender, and add the canned tomatoes and juice, half and half, rosemary, salt and pepper. Puree the mixture on high until smooth. Transfer back to the pan and stir over low heat until thickened and just heated through. Don't boil. Keep warm as you make the sandwiches.
2
Heat a large skillet or cast iron pan over medium heat until hot. While the pan is heating, butter one side of each slice of bread and place 3 slices, buttered side down, on a cutting board. Place 1/3 of the brie slices on the bread and sprinkle with scallions. Top each with a second slice of bread, buttered side up. Place sandwiches in the hot pan. Press down with a metal spatula a few times as they cook, to seal the sides together. Cook for about 4 minutes per side, until golden brown.
3
Transfer sandwiches to a cutting board and cut off the crusts, then slice corner to corner, then corner to corner again, to make 4 triangles. Serve 1/2 cup soup in a small glass and balance a sandwich triangle, point down, on the rim of the glass. Arrange all the glasses on a large tray or table for your guests.