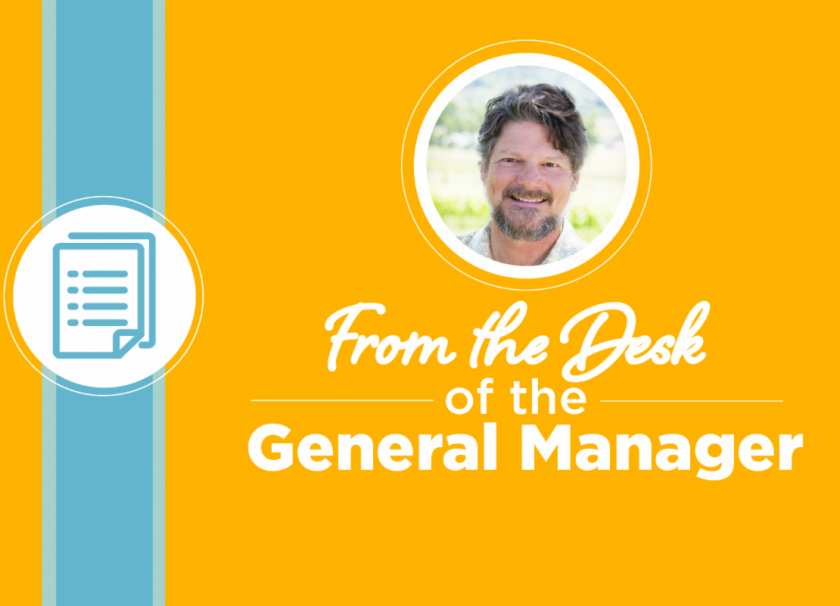 November 3rd, 2020
November/December GM Update: Overcoming Challenges
It's probably already cliche to say "it's been one heck of a year." There have been challenges a-plenty for all of us, whether we're working or shopping at the Co-op - but I'm so proud of how all of us have persevered. 
First, I wanted to thank this community for the level of engagement we've experienced this year. More owners are showing up at board meetings; and we've had productive discussions about a number of topics of concern for owners and shoppers. It should be celebrated that this community is filled with lots of different viewpoints, because diversity drives dialogue and gives us an opportunity to work together towards more compassion.
Currently, our county and region are seeing an uptick in Coronavirus cases. Our approach since March has been to be safe rather than sorry, and thanks to everyone's combined efforts, no Co-op employees or shoppers have reported contracting the virus. The Co-op will continue to follow OHA's recommendations for the winter, which include face coverings and other safety protocols. 
As part of the Co-op's goal to keep shoppers safe, we launched an online grocery ordering service earlier this year to offer curbside pick-up and Ashland delivery. This has been a life-saver for a number of our shoppers - perhaps literally! As the regular flu season approaches, along with the threat of coronavirus, allowing shoppers to minimize contact when shopping is a high priority. I am very happy to report that eGrocery delivery service provided by the Rotary Club of Ashland will continue through January 31. Learn more here.
Despite the non-stop disruptions of 2020, our team of 170+ dedicated employees continues to show up day after day, week after week with uninterrupted service to our community. The job has had added challenges this year, and we have worked to support our employees. The Board of Directors supported a "hero pay" differential that began in March and has recently been extended to the end of the year. And our employees' experiences have inspired us to state why Black Lives Matter to the Co-op (read more here). 
Of course our many friends and neighbors who were impacted by the Almeda and Obenchain Fires are still on our mind. Remember when I asked you back in 2018 to support a fundraiser for the town of Paradise after their devastating fires? I drew a parallel then to Ashland: a small city in the mountains, a diverse population, and the threat of wildfires always looming. Unfortunately, we experienced a very similar event in our valley. And the ways our community responded have moved me:
The Co-op's Almeda Fire Relief Fund has raised over $110,000 - an amazing outpouring of direct financial support. Over half of this has already been distributed, and the AFC Gives committee is strategically planning additional disbursements.
Vendors donated thousands of dollars worth of products to support relief efforts.
Our staff jumped in to volunteer with Rogue Food Unites, Rogue Valley Fire aid volunteers, Rogue Action Center, ACCESS and many other organizations leading recovery efforts. 
Shoppers have generously donated to seven Co-op staff who lost their homes, both by directly donating to GoFundMe accounts, and by buying pumpkins in October, which raised $2,490. 
Product donations from our trusted vendors resulted in the new Relief Reuben at the Co-op Kitchen, where 100% of proceeds are going to relief efforts. And already over $4,700 has been raised!
One thing isn't changing this year: the Co-op's Thanksgiving meal, a great option for an affordable, high-quality meal, available in individual servings or as a family meal for 6-8 people. Ordering ends on November 23, and pick-up takes place on November 25 - you can check out the offerings and order here. We're also expanding the opportunities to enjoy the Co-op Kitchen's Thanksgiving offerings through EBT/SNAP benefits - read more here. Get an early taste of Thanksgiving when we switch the hot bar on November 16, or pick up just the dishes you need or crave from the Grab & Go cooler. 
We look forward to offering a unique alternative to the annual Gingerbread Cookie Party on December 12 - while we can't have everyone in our cozy classroom this year, you'll still be able to pick up cookies and decorating materials to take home. 
Moving forward we're planning for a 2021 that allows us to get back to what we love: bringing this community together over healthy, flavorful food and a deep connection to our valley. We'll have backup plans, but we hope to celebrate a return to "the old normal" in 2021 - including real hugs! All of us at the Co-op wish you a peaceful and healthy holiday season.

In cooperation,
Emile Amarotico 
More Co-op News