Potato Leek Soup with Gruyere
Prep Time
45 minutes; 15 minutes active
This hearty vegetarian soup tastes even better when garnished with crispy fried leeks, or chopped bacon or ham.
 
Recipe by: Co+op, welcome to the table
Meal Type
Entrees
Salads & Soups
Side Dishes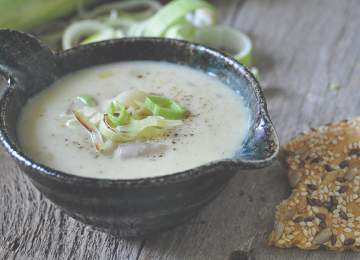 Ingredients
3 tablespoons butter
3 large leeks, washed well, trimmed and thinly sliced
2 cloves garlic, minced
1 teaspoon dried thyme
2 pounds russet potatoes, washed and diced into 1-inch pieces
1/2 cup white wine
4 cups vegetable or chicken broth
2 1/2 cups water
1/4 cup flour
8 ounces Gruyere cheese, shredded
Salt and ground black pepper, to taste
1
In a large stock pot or Dutch oven, melt the butter over medium-high heat. Add the sliced leeks and sauté for 5 minutes until leeks are soft. Add the garlic and thyme and cook for 2 more minutes, then add the potatoes, white wine, vegetable broth, and 2 cups of water. Bring to a boil, then reduce heat to a simmer and cook for about 10 minutes until the potatoes are just tender.
While potatoes are cooking, whisk together the remaining 1/2 cup of water with the flour in a small bowl. Whisk the flour-water mixture into the soup once the potatoes are tender and simmer for another 5 minutes.
Remove the soup from heat, remove 2 to 3 cups of the soup from the pot to a blender and blend in the cheese, then slowly stir the cheesy soup mixture back into the soup pot. Season with salt and black pepper and serve hot.