Take all of the treats you top a baked potato with and turn it into this hearty soup.
Ingredients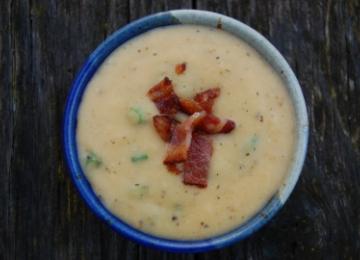 Ingredients
4 russet potatoes
1 ½ tablespoons olive oil or butter
1 small onion, diced
2 cloves garlic, minced
1 teaspoon sea salt
¼ cup flour
3 cups vegetable stock
1 teaspoon dried thyme
1 teaspoon dried basil
¼ teaspoon smoked paprika
4 green onions, diced
2 ounces hot pepper cheese, shredded
2 ounces cheddar cheese, shredded
1 cup milk
2
Scrub the potatoes clean, dry with a towel, poke all over with a fork, and place on a cookie sheet. If desired you may rub the potatoes with olive oil, salt and pepper. Bake until tender, about an hour.
3
Cut the potatoes in half lengthwise and in half again. Gently scoop out the potato. Reserve skins for another use.
4
Heat the oil or butter in a stock pot.  Sauté the onion and garlic for about 10 minutes. Add the salt. Stir in the flour and gradually add the veggie stock.  Bring to a boil. 
5
Add the potatoes, thyme, basil, and paprika. Cook for 5 to 10 minutes then turn off the heat.
6
Add the green onions, cheeses, and milk. Stir until the cheese is melted.  
7
Top with chopped bacon if desired.