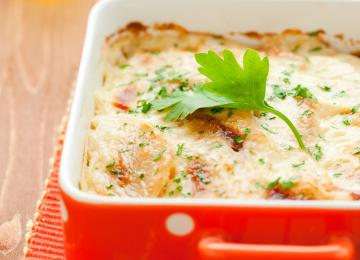 Ingredients
1 pound Yellow Finn potatoes cut into ¼ inch slices
1 ½ pounds green cabbage cut into ribbons
Sea salt and black pepper
¼ cup unsalted butter
3 tablespoons fresh sage leaves chopped
3-4 cloves garlic minced
1 1/3 cups milk of choice
3 eggs
½ cup Parmesan cheese grated
1/3 cup flour of choice
1
Pre-heat oven to 350 degrees.
2
Bring a gallon of water to a boil. Add the potatoes and boil until nearly tender (about 6 minutes). Remove from boiling water with a slotted spoon. Set aside.
3
Add the cabbage to the water and boil for about 5 minutes. Drain and dry in a kitchen towel.
4
Combine the potatoes cabbage and salt and pepper to taste in a bowl.
5
Melt the butter in a small skillet and add the sage and garlic. Cook for a few minutes. Toss with the potatoes and garlic and transfer to a baking dish.
6
Combine the remaining ingredients whisking well. Pour over the vegetables and bake for about 50 minutes.
7
Let cool before serving and cut into squares.