Gluten Free Gingerbread Cookies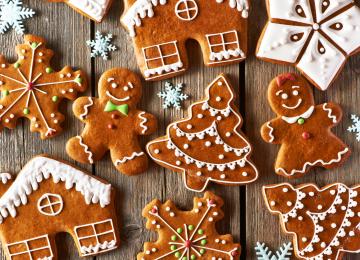 Ingredients
3/4 cup unsalted butter, softened
3/4 cup brown sugar, packed
3/4 cup molasses
1 large egg
1 teaspoon vanilla extract
3 1/2 cups Bob's Red Mill Gluten Free 1-to-1 Baking Flour
1 teaspoon salt
2 teaspoons cinnamon
2 teaspoons ground ginger
1/4 teaspoon allspice or cloves
1 teaspoon baking powder
1/2 teaspoon baking soda
1
Beat the softened butter and brown sugar until creamy.
Add egg, molasses and vanilla extract, mix until smooth.
2
Whisk together all dry ingredients. Slowly add dry ingredients to wet, mixing by hand.
3
Divide the dough in half and place on parchment paper. Wrap in parchment paper and refrigerate for at least 2 hours (up to several days).
4
Preheat over to 350 F. Line baking sheets with parchment paper.
5
Once the dough has chilled, roll out dough between two sheets of parchment paper. Use gluten free flour, to flour the parchment paper above and below the dough. Add flour as needed to prevent sticking. Roll out dough to 1/8" to 1/4" thick.
6
Dip your cookie cutter in some flour and then cut out shapes. You can re-roll the scraps to cut more cookies.
7
Transfer the cookies to your parchment lined baking sheets. Bake until the cookies are slightly brown along the edges (10 to 12 minutes). Let the cookies cool on the baking sheet until they are set.