Classic Gluten Free Chocolate Chip Cookies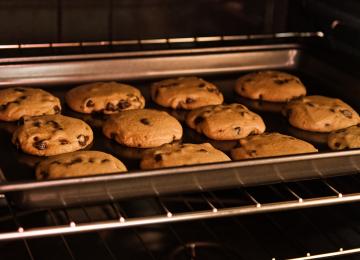 Ingredients
2 1/4 cups Bob's Red Mill 1-to-1 Gluten Free Baking Flour
1 tsp baking soda
1 tsp salt
1 cup (2 sticks) butter, softened
3/4 cup sugar
3/4 cup packed brown sugar
1 tsp vanilla extract
2 large eggs
2 cups chocolate chips
1 cup chopped walnuts (optional)
2
Mix flour, baking soda, and salt in small bowl. Set aside.
3
Beat butter, sugar, brown sugar, and vanilla extract in large bowl until creamy. Add eggs, one at a time, beating well after each addition. Gradually add flour mixture and beat until well-blended. Stir in chocolate chips and nuts.
4
Roll dough into balls, about two tablespoons each. Place 2 inches apart on ungreased baking sheets.
5
Bake for 11 to 13 minutes or until golden brown. Cool on baking sheets for 5 minutes. Move to wire rack to cool completely.