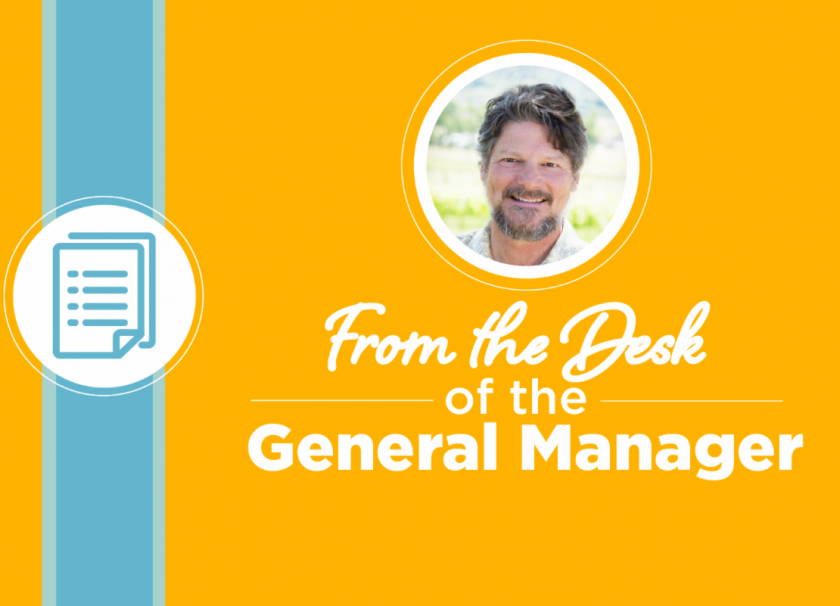 July 6th, 2020
July / August GM Update: Walking the Walk
I wrote at the beginning of the year that the Co-op model of business was a blueprint for the future. The concept of "planet, principles and people before profit" is a guide for how cooperatives can run a successful business that puts more back into the community and local economy than national chains, while using less resources and creating less waste.
Needless to say, even the cooperative model has been challenged since the pandemic broke out four months ago. We've had to change a lot about running a grocery store where, even in a pandemic, thousands of people are stopping in daily.
But we're not moving away from that cooperative model, because that model will continue to serve our community the best, especially in a time when small businesses and neighbors might be on unsteady financial footing. We are redoubling our efforts to support local producers and businesses, to provide grants and sponsorships for local organizations and community events, and to be a really fantastic place to work, too!
Check out some of the highlights in this edition of the Co-op's bi-monthly newsletter below.
One example of the way the Co-op comes through for the community: Co-op owners have now donated over $20,000 in patronage dividends to the Ashland Emergency Food Bank. The AEFB has been serving Ashland and the surrounding area for 45 years now, and as some loans and benefits may finish at the end of this month, AEFB will continue to play a critical role in keeping this community fed. AEFB will be the first designee for the Change for Good program throughout July, so please consider rounding up at the register. Read this short interview with AEFB's executive director, George Kramer, to learn more about this cornerstone of caring in Ashland.
In order to better serve Co-op owners, the Co-op now offers online shopping through our eGrocery program. You can now shop from over 5,000 items for contactless curbside pick-up at the store, or contactless delivery in the Ashland area, thanks to assistance from the Rotary Club of Ashland. (Or if you're just looking for a quick bite without the wait, you can also use this service to order sandwiches, smoothies, burritos, coffee, and all your other Co-op Kitchen favorites to pick-up in the store.) This is a big first for the Co-op, and we know how helpful this will be for the community in the long term. We would love feedback on your experience shopping online - learn more about how to set up an account and order here. If you're not a Co-op owner yet, you can learn more about the benefits and how to start for as low as $10 here. 
In other news, Co-op owners voted in record numbers during the spring election. The Board of Directors welcome back Ed Claassen and Julie O'Dwyer for new three year terms. Ed and Julie have been dependable leaders on the board, with Julie recently leading the creation of the new Change for Good register round-up program. The board also welcomes new board member, Mark Gibbs, whose background in corporate finance will serve the Co-op well in this rapidly changing financial landscape. Get to know a little more about the newly elected members here.
I want to finish by saying thank you - because this Co-op is a reflection of YOU. Beyond voting, Co-op owners and shoppers have always been engaged and involved, understanding that the grocery store is much more than just a place to buy food. The money spent at the Co-op does more in the community, supports higher quality jobs, and stays in the local economy longer - and all of that reinforces the strong community you have helped build here.
Navigating the past four months hasn't been easy, but you have shown love, compassion and care for your fellow shoppers and Co-op staff in ways that prove the Co-op will be a force for good for many decades to come. 

In cooperation,
Emile Amarotico
More Co-op News