Welcome
The Co-op wants to make shopping accessible for all Co-op shoppers, so we're launching an online grocery service for curbside pickup or local Ashland delivery. Let us help by doing your shopping for you!
Pick-up is offered Monday through Friday from 10:00 am to 6:00 pm; deliveries begin going out at 1:30 pm and 1:45 pm. Curbside pickup slots are available up to four days in advance.  
Before you begin, a few things to note:
If you are a Co-op owner, you can create an eGrocery account to connect your owner number for patronage dividends and other owner benefits. Click here for instructions. 
Please do not shop for groceries AND Co-op Kitchen Made-to-Order meals in the same transaction. Because of logistical limitations, these orders must be placed separately.
Currently, the fee for curbside pick-up and delivery is being waived after your groceries have been picked and the final payment has been processed. (The charge is listed on your initial order but later removed.) Delivery orders will include a $5 donation to the Rotary Club of Ashland in recognition of their delivery assistance. This donation is being passed through to the Ashland Emergency Food Bank.
First time users: 
No account is required to start shopping. Simply add items to your cart and head to check-out, where you will be prompted to enter your contact and payment information.
Co-op owners can link their eGrocery account to their owner number with the following instructions:
To link your owner account to the eGrocery page, click this link to arrive at the Password Assistance page. As seen in the video below, on this page you will choose "Email," "Phone," or "Text" for your Reset Method, then enter the email address or phone number associated with your Co-op owner account.


As seen in the screenshot below, a verification code will be sent to you via the contact method specified. (Emails will arrive in the same location as your Co-op 'paperless' email receipts.) The email will look similar to this:


Copy this verification code and return to the Password Assistance page. As seen in the screenshot below, you will enter your verification code, and click Submit:


You'll then be prompted to create a password for your account, as in the image below:

Returning users:
Desktop:
Click the Login button in the upper right and enter your email/phone and your password.
Smartphone/tablet:
Click the upper left menu icon ☰ then scroll down to the Login link.
Back to beginning of guide | Click here to start shopping
Shopping 
You can use the search bar to find specific items: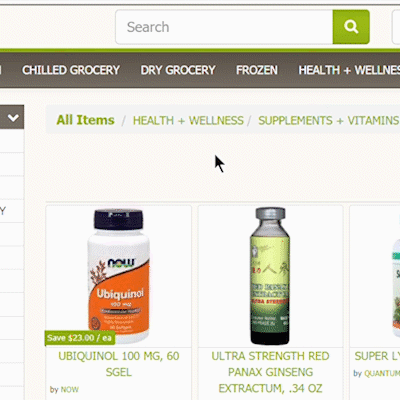 Or browse the shopping categories by clicking the menu items in the upper left: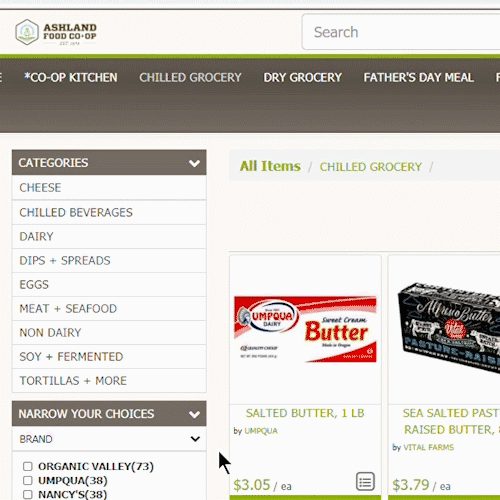 When you find your item, click "Add to Cart":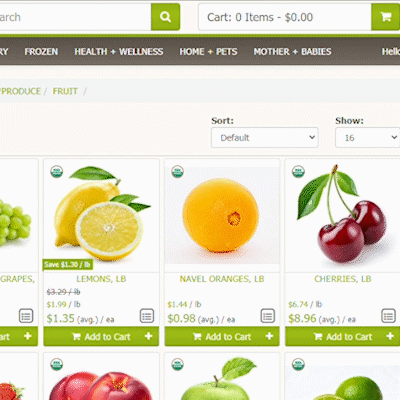 Please keep in mind:
If an item is out of stock it will not be included in the order. A pre-authorization charge will be seen on your credit card; once the order has been finished, we will reconcile any items that were not provided. Please allow 2-3 business days for final charges to post.

We will not be able to call you to discuss availability.

You will not be charged for items that are out of stock.

Some items may have 'customization' options which you will configure after clicking "Add to Cart."

When ordering produce, please know that bananas and avocados can be under-ripe or at peak ripeness. Please understand that this is unavoidable due to distribution schedules.
Back to beginning of guide | Click here to start shopping
Substitutions & Alternatives 
If you would like to allow for an alternative item that can be substituted for a certain product, please follow the directions below. We will do our best to honor substitutions depending on available stock:
Click on View Cart on top right hand corner of page.

Click "Add Item Instructions" for items you would like to be substituted if unavailable:


Box will appear above:


Enter in alternative option wish - i.e. smaller/larger size, different brand, different flavor - if available.

Press "Save."
Back to beginning of guide | Click here to start shopping
Paying for and scheduling your pick-up 
At this time we have two options for our eGrocery Service:
Curbside Pickup Groceries Only
Delivery Groceries Only
Please note: Co-op Kitchen (Deli Made-to-Order) items cannot be added to your grocery shop and will not be honored. In addition to this, please DO NOT select "Co-op Kitchen Pick-up Only" when finishing your grocery shop.
There is a possibility that while you are shopping, all Curbside or Delivery slots will have filled. Your shopping cart will be saved, and will be immediately available again when new slots open up.
Department managers and Grocery pickers are focused on providing freshness and quality, so there will not be any sacrifices in quality for orders. Your order will be selected and packed on the same day as your pick-up, so you can be assured of product freshness.
For safety reasons, each bag will be limited to 15lbs max. Perishable items will be bagged separately, unless the total order is 1 bag, in which case all items will be bagged together and stored in the cooler.
Back to beginning of guide | Click here to start shopping
Editing Your Order 
After placing your initial order, you can return to change quantities, add new items, or remove items. Watch the minute long video below on how to edit your order.
Please note the following when editing:
Make sure to complete your order - you will enter your payment information, choose a curbside pickup/Ashland Delivery day and time, and be presented with an order number and order scan code when the order has been placed.
While you are editing your order, the time and day that you originally selected becomes available to other customers that may be shopping. The original slot may be taken by the time you've completed editing your order. We hope to offer a 'locked' slot during editing in the near future.
Do not edit your order after midnight on the day of your pick-up/delivery, as the editing process will take your order out of the day's queue. You will only be able to select the next available time on the next available day.
Back to beginning of guide | Click here to start shopping
Curbside Pickup Groceries Checkout 
(Click here for Ashland Delivery Checkout Instructions)
Click shopping cart box at top right.

Review and adjust shopping cart.

Select "Order Now".

On Step 1, enter your contact information.

For Step 2, please choose the option: "Curbside Pickup Groceries Only", as shown below:


Select any available Pickup time.


Enter payment information.

Confirm order.
Picking up Curbside
When you arrive at the Ashland Food Co-op, follow these instructions:
Park anywhere in the Co-op parking lot

Text/call 541-621-5915 to inform us that you've arrived.

Give your last name as provided on the order.

Your general location in the parking lot.

The make and color of your car.

Turn on your emergency flashers.

Pop open your trunk or hatch if possible.

The AFC employee who receives your text/call will be out shortly with your order.

Stay in your vehicle.

When groceries are loaded in the car, you are free to go.
Shelf-stable items are picked first, then produce, and finally meat/seafood.
Please understand if you show up late for your pick-up, delivery to your car may be delayed as we serve other pick-ups.
Back to beginning of guide | Click here to start shopping
Ashland Delivery Checkout 
Click the shopping cart icon at the top right portion of your window:

(Desktop)

(Mobile)

Add directions or helpful call-outs for the delivery driver in the "Order Instructions" box (e.g. directions if navigation apps are undependable; or specific instructions on where to leave groceries):


Review and adjust the shopping cart to your desired shop, then click "Order Now."

For the "Receiving Method" please choose the option "Ashland Delivery Groceries Only" as shown circled below. DO NOT SELECT "Co-op Kitchen Pickup Only."


Select an available delivery time:


After choosing a time slot, enter your delivery address information. 

On Step 3, enter your payment information.

Confirm and place your order.
Back to beginning of guide | Click here to start shopping
FAQ 
Items that cannot be purchased at this time:
Bulk
Beer/wine
CBD products
Is there a minimum order?
Yes. $40.
Is there a maximum order?
Yes. $200.
Can I use my dividends to order groceries?
Dividends can only be used in-store.
Why not use Instacart or Doordash?
The Co-op has a strong reputation for customer service, and is proud to include non-manager positions in a union. "Gig" type delivery services cannot guarantee the same standards of service, nor are they even technically employees of those companies. We cannot in good conscience support those services.
Is there a fee for Curbside Pickup or Ashland Delivery?
At this time we are waiving any fees for Curbside Pickup or Delivery due to these unprecedented times and with great help from the Rotarian Volunteers who are providing eGrocery deliveries.
Do you accept tips?
We hope to have a function added to our checking out to allow tips for the service/to our local food bank shortly.
Please do not hand our Curbside Clerk/Rotarian Delivery driver any money, as we are trying to make this a touchless delivery to you for the safety of everyone involved.
Do you accept orders over the phone?
At this time we do not have the capability nor the bandwidth to take eGrocery orders over the phone.
Do you accept EBT?
We are unable to process EBT payments on our eGrocery platform, but are able to honor it on eligible in-store purchases.
I forgot my password, what do I do?
Click here.
How can I get notified about online shopping opportunities and updates?
Sign up for e-mail notifications here!