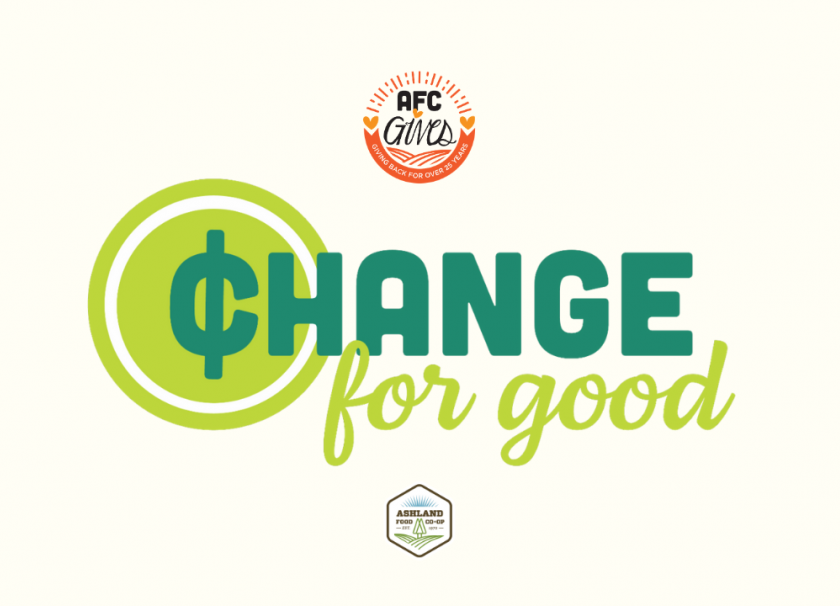 AFC's new Change for Good Program enables shoppers to round up their purchases at the store register so that the spare change will benefit a different local non-profit each month. Each month, the Co-op will partner with the designated non-profit to share their mission and engage our shoppers in their organization.
The AFC Gives Committee has selected twenty finalists for the 2022-2023 Change for Good program representing four priorities: Equity, Diversity, and Inclusion; Basic Needs; Climate; Healthy Food; and Culture. The ten organizations receiving the most votes will be featured in the Change for Good program, beginning in the fall of 2022. To read information about each organization, click on View Details by each organization's name. Please vote for up to ten organizations.
Talent Maker City
Talent Maker City, your local Makerspace is a non-profit that provides hands-on, creative learning opportunities and disaster recovery for underserved and underrepresented communities in Talent, Phoenix and beyond.

Talent Maker City (TMC) has been an instrumental resource for communities as they rebuild from the Almeda fire and impacts of the pandemic. From responding to the COVID19 pandemic by printing valves on our 3D printers for ventilators at local hospitals to our Rise Up + Rebuild program where students use hands-on learning to build items for families who were impacted by the Almeda fire, we continue to respond to the needs of our community in creative and innovative ways. By providing creative activities, we can also help alleviate the impacts of recent traumas while elevating mood, self confidence and community connection. This will make us stronger and more resilient individually and as a community. As a somewhat young organization, many in the valley still do not know about our services and story. With support from Ashland Food Coop's Change for Good Program, we will be able to gain more visibility, share our story and continue to provide our services to those who need them most.
https://www.talentmakercity.org/
 
ACCESS
ACCESS provides food, warmth, and shelter to our most vulnerable families.

As the regional food bank for Jackson County, ACCESS' Nutrition Support program helps feed more than 40,000 – one in five – hungry people each month in Jackson County through its 26 operating food pantries, including healthy mobile pantries for disadvantaged rural communities, senior citizens, and medically vulnerable individuals (e.g., those living with comorbid chronic disease). In FY2020, ACCESS' Fresh Alliance Program recovered over 2 million pounds of perishable foods from grocers and food producers and supplemented this fresh food with additional healthy items to support our communities' most vulnerable individuals and families who otherwise would go without healthy meals. As the county leader in ensuring food to the food-insecure, ACCESS is
uniquely positioned to leverage the largest impact through its robust service distribution and delivery networks to those who need it most.
Rogue Action Center
The RAC's Disaster Relief Team (DRT) is building power and connections across the Rogue Valley to prepare for and respond to disaster, utilizing mutual aid to support people displaced and impacted by the September 2020 wildfires, while readying the community for whatever is next.
The RAC's Disaster Relief Team is re-imagining what community resilience and disaster relief looks like. We have witnessed first hand that the traditional system of disaster relief does not meet the needs of all impacted community members, especially those who live in marginalized communities. While the programs offered by state, federal, and direct service agencies are essential in the recovery process, additional support is required in order for survivors to access and utilize these programs. Planning our mutual aid work around the evolving needs and feedback of survivors will not only carry us through recovery, but provide a strong foundation for the post-recovery community that is being created and for future disasters that may occur. We are forming the physical infrastructure, relationships, and community capacity to respond and rebuild from disasters in a different way, both in our community and the network of disaster resilient communities we are building.
https://www.rogueactioncenter.org/
Cave Junction Farmers' Market
The Cave Junction Farmers' Market Cultivate Kids program in collaboration with RiverStars Performing Arts is uniting sustainable farming skills with dance and theater experiences for Illinois Valley youth.
The mission of the Cave Junction Farmers' Market is to support our local community of farmers and families by providing a vibrant marketplace for all to gather around in support of healthy foods, meaningful arts, and continuing education. We provide SNAP incentive programs Double Up Food Bucks and Protein Bucks, increasing the ability for low-income families to acquire healthy foods, supporting small local farmers and encouraging a circular economy. Our Cultivate Kids Program provides free hands-on sustainable farming activities for Illinois Valley youth. We collaborate with RiverStars Performing Arts, providing an opportunity for dance and theater classes with performances by local youth at our market. Market is every Friday from 4-7 pm from April 15-Oct 14th. We offer space for local musicians to perform, local artists to show their wares and non- profit groups can table information. This year we plan to create community pollinator gardens and plant shade trees at the market site.
https://www.facebook.com/CJfarmersmarket/
Klamath Bird Observatory
Klamath Bird Observatory is an Ashland based nonprofit that promotes bird and habitat conservation in the Klamath-Siskiyou bioregion through scientific research, education and partnerships.
Klamath Bird Observatory's mission to advance bird and habitat conservation through science, education, and partnerships has resulted in over twenty years of valuable scientific research contributing to local and regional conservation decisions in the Klamath Siskiyou Bioregion. Birds serve as our 'canary in the coal mine' and the loss of one in four birds since 1970 is a sobering reminder of our climate crisis. KBO's diverse research activities contribute to understanding this decline and restoring our regional ecosystems for birds and humans in the era of climate change. In addition to informing conservation decisions, KBO promotes a conservation ethic through local community education as well as international education and training. Our internship program has trained hundreds of interns from seventeen countries, many of whom return home to
obtain advanced degrees and work in conservation. KBO plays an essential role in promoting conservation both locally and internationally.
Rogue Advocates
Through advocacy, education, and outreach around local land use issues, Rogue Advocates work to preserve productive rural land and to promote vibrant urban centers.
Rogue Advocates monitors the decision-making processes of both Jackson and Josephine counties' planning departments for any land use proposals that could have a damaging effect on the livability and sustainability of the Rogue Valley. We educate the public about any project that has the potential to negatively affect the quality of life in the valley. We conduct outreach out to community residents to encourage them to engage in the land use planning process, as state law authorizes and invites them to do. When necessary, we resort to litigation to make sure the counties comply with state law.
Truth to Power
"Truth to Power's" teen activists produce social justice podcasts and projects.
Ashland High School's "Truth to Power" club is a teen force for good. Powered by motivated and talented youth leaders, the club creates original podcasts about local social justice issues and follows them up with transformative projects that mobilize community participation. "Truth to Power" is responsible for the BIPOC Celebration Mural facing Mountain Avenue, the "Dear White Folks" anti-racism workshops, the ongoing Houseless Neighbor supply drives, getting menstruation products in school bathrooms, the creation of the 3-part Almeda Fire podcast series emphasizing climate impact, a forthcoming KSKQ radio show, public letter writing and campaigning on the side of social justice from a teen point of view, and much more.
https://www.truthtopowerclub.com/
The Crest
The Crest provides connections to nature, place-based environmental education, and land restoration opportunities for learners of all ages in the Rogue Valley.
The Crest is an educational non-profit that connects people to farm, forest, water, and each other through Outdoor School, summer camp programs, and restoration volunteer opportunities. Based at Willow-Witt Ranch near Ashland in the Cascade-Siskiyou National Monument, The Crest provides hands-on learning experiences in sustainable and earth-honoring agriculture, wetland restoration, forest ecosystems, and more. The Crest has a culture of trauma-informed practice that is embedded throughout our place and programs; we cultivate a safe and accepting atmosphere where students can feel secure and in tune with themselves. We empower younger generations to enact positive change in our environment through equipping them with vital knowledge and meaningful experiences in nature.
https://thecrestatwillowwitt.org/
Bellview Grange
Bellview Grange – on Tolman Creek Rd., near Bellview Elementary School – is a gathering place for community activities – a theater, art space, organic garden, educational food forest, and hub for local education and activism.
Bellview Grange #759 is a community center, assembly hall, garden, food forest, and hub for local education and activism. The Grange works on behalf of small family farmers, organic agriculture, sustainability, food sovereignty & security, social, economic and environmental justice, local resilience and community engagement. We share our community center with many organizations, including: The City of Ashland to provide shelter to the homeless when temperatures drop below freezing; Alcoholics Anonymous; Ashland Children's Theater; SunFolk Dancers; Southern Oregon Pachamama Alliance; Legacy Earthkeepers Academy of Permaculture (LEAP); Emerging Futures Network; Hardy Seeds and Rocky Mountain Seed Alliance. We share our land, by maintaining a community garden to grow food for our members and those in need. In fall of 2021 Bellview Grange designed and began planting a 1/4 acre educational Food Forest, giving a home to 100 hardy trees, shrubs and vines, selected to yield edible produce.
https://www.grange.org/bellviewor759/
Cascade Girl
Cascade Girl teaches kids about pollination and food production.
Cascade Girl Organization teaches kids about pollination and food production and supports the education of young men and women through internships. We support Veterans by offering on-line and in-person programs to help veterans learn about pollinators, agriculture and honey production. We support excellence in honey production via the Oregon Honey and Mead Festival and won a first-place commendation at the Good Food Awards this year for our Million Blossom Honey. Biodynamic planting has been integral to our understanding of land and soil protection and we replanted gardens in Phoenix at Blue Heron Garden and planted a new, organic garden at Phoenix Industrial Studios. Cascade Girl Organization will co-produce the Oregon Honey and Mead Festival again this year in Medford. We visit schools in the Rogue Valley and are keen to replace and augment our teaching materials for this coming year!
Community Works
Community Works provides a safety net through housing and supportive services for anyone fleeing violence.
More than half of women in Oregon have been domestic or sexually assaulted. Twenty nine percent of Black women are victimized by an intimate partner in their lifetime. Half of transgender individuals and half of Indigenous Americans will be sexually assaulted in their lifetime. And, the list goes on. This problem is pervasive. For those who have been victimized by domestic or sexual violence, Community Works is there. There are twice as many women who will be abused in the United States as who will get breast cancer, and yet this epidemic is silenced and in the shadows. Community Works lifts this conversation out of the darkness and into the light. Community Works validates and supports victims, and we let them know they are not alone. We provide housing, safety
services, and basic needs so that every person who is fleeing violence will be safe and begin to heal from the trauma they have experienced.
Rogue Valley Farm to School
Rogue Valley Farm to School connects schools to our local farmers to get more fresh food in school meals and provides farm and garden education programs to thousands of children every year.
Rogue Valley Farm to School believes health begins with the food we eat and good minds begin with nourished tummies. Every child has a right to access fresh healthy food, and by working on a federal, state and local level, we strive to increase funding for schools to purchase more fresh food from our local farmers. We also work to increase funding for farmers to be able to grow more food, and we build partnerships with schools to both support them sourcing more fresh food and we provide weekly garden education programs, monthly Tasting Tables, farm field trips twice a year and support for teachers integrating the garden into their curriculum. We are constantly looking for new ways to increase access to fresh food for families, and giving children the experience of growing,
cooking and eating fresh, delicious food. We work in partnership with local farmers and many organizations to build a thriving, equitable food system that honors the diversity and well-being of our community.
Ashland Food Angels
For over a quarter of a century the Ashland Food Angels, an all volunteer non-profit, have gathered and given away food, clothing and household items, nurturing the most vulnerable in our community and at the same time reducing waste going to our landfills.
Ashland Food Angels, an all-volunteer non-profit, has been in operation since 1995, with volunteers working every day of the year to collect and redistribute food, clothing and other items in support of those in need in this area. Honored both locally and nationally, the Food Angels project has collected as much as a half million pounds of food yearly, and provides produce for the local food bank and Uncle Food's free meals program. Picking up food mornings and evenings and at the end of Farmers' Markets, sorting and boxing, then delivering the foodstuffs are daily activities which both help with local food security and support environmental balance by reducing the amount going to the landfills. We focus on produce, especially organic produce, to help make available those foods which would best support a healthy diet, and we work cooperatively with a number of other groups which have related visions and aims, thus building strong community networks.
Rogue Farm Corps
Rogue Farm Corps trains beginning farmers and ranchers in regenerative agriculture and works in coalition to build a more just, equitable, and resilient food system.
Many barriers exist for beginning farmers who do not have the benefits of growing up on a farm, receiving training from family members, and inheriting farmland. To build successful careers in agriculture, beginning farmers and ranchers need agricultural training, mentorship, hands-on experience, business development training, and support in accessing land and capital. Farmers who identify as Black, Indigenous, Latinx, people of color, women, trans, and/or LGBTQIA+ face additional systemic barriers to advancing in agriculture. RFC works to center the needs of these communities through outreach, scholarships, program design, and coalition work to ensure that the future of farming is
equitable, ecologically sound, and accessible to all. RFC's work is nationally recognized for creating a successful, legal model for farm-based regenerative agriculture education. Over 59% of RFC's alumni are currently farming and an additional 25% plan to in the future.
https://www.roguefarmcorps.org/
Maslow Project
Maslow Project is an easy to access non-profit agency that provides services to homeless youth and families with a goal to stabilize them in their education, housing, employment and more!
With your help Maslow can continue providing life-saving wrap-around services to teens and kids experiencing homelessness. Roughly 1 in 10 school aged children in the valley are experiencing homelessness. Over the course of the past two years activities have been canceled, school changed to online, gatherings with friends put on hold, and the patterns of our lives changed. Of course homelessness didn't stop. Trauma didn't stop. Our youth didn't stop and our staff couldn't stop. Maslow Project has always been there for youth, and will continue to be there for as long as they need us. Kids experiencing homelessness have the most obstacles and lost the most educational progress over the pandemic than any other group. Your support helps provide food,
clothing, shelter, connection & navigation to resources, and ongoing support to help families gain stability and work toward thriving.
Options for Homeless Residents of Ashland dbn Options for Helping Residents of Ashland (OHRA)
OHRA is a lifeline for low-income and unhoused people to move from crisis to stability.
OHRA is the only permanent resource in Ashland offering comprehensive services for unhoused and economically challenged people. Through our Resource Center, we help people find or remain in their homes, obtain jobs, and access all kinds of essential services. Once renovations are complete our new shelter will accommodate up to 72 people in private rooms as they work to stabilize their lives. Since April 2021 we have sheltered163 people. Our Laundry/Shower Trailer is available every week. We stayed open during the pandemic and, after evacuating on September 8, we reopened the next day to serve people devastated by the Almeda Fire. When people have nowhere else to turn to, OHRA is there as a lifeline for the people in our community who need us most. We certainly focus on our unhoused guests, but we are also the only resource in town who helps people on the verge of homelessness to stay housed and avoid eviction. OHRA has the only walk-in resource center in Jackson County.
https://www.helpingashland.org/
 
Our Family Farms
Are you interested in helping protect our Jackson County GMO free seed sanctuary we created in 2014 and educate the community about the importance of traditional seed supply and its global importance?
Our Family Farms is a small volunteer-led non-profit with the capacity to perform large tasks that create transformational change. We envision a thriving, sustainable food and agricultural system with seed diversity and farmable land for generations to come. We defend the Jackson County GMO free seed sanctuary created in 2014, support farmers, and educate policy makers and the community at large about regenerative agriculture.
https://www.ourfamilyfarms.org/
Center for NonProfit Legal Services
CNPLS Immigration law Project provides equal access to Justice for all qualifying immigrants in an effort to warmly uplift and empower immigrants in our community.
Currently, we have an emergent (both a new and an emergency) need to assist immigrant children and youth who are fleeing violence in the Northern triangle. These children and youth are coming up to our community as unaccompanied minors, all by themselves. They are placed immediately into removal proceedings and require swift, delicate and excellent legal services. They are at high risk for becoming trafficked when they arrive here, and are in dire need of support, services and care. The CNPLS Immigration law Project is taking all of these youths' and minors' cases for free, without cost. We have a moral duty to provide for the children and youth in our community, and we need your support to be able to do this. CNPLS is the only local organization that these youth can access these services without cost.
Southern Oregon Land Conservancy
SOLC is our local land trust conserving lands for people and nature.
Since 1978, Southern Oregon Land Conservancy has worked to protect wild and working lands in the Rogue River region, which is renowned as one of the most biologically diverse areas in the world. Not only does SOLC protect more than 12,400 acres, we also invite residents of all ages to learn from and care for local landscapes through a wide range of programs, including field trips for students, guided hikes and pub talks for adults, and volunteer opportunities and public access days. We are committed to making these programs not just accessible and inclusive but actively welcoming to all members of our community, because the natural world is an essential resource for everyone.
Pollinator Project Rogue Valley
Inspiring people to Restore the Earth One Native Pollinator Garden at a Time.

Your support helps to Restore the Earth One Native Pollinator Garden at a Time: inspiring, engaging, and educating about the ecological importance of wild pollinator species and our native plant communities; expanding our educational programs; growing our From Fire to Flowers Gardens program; and restoring pesticide-free pollinator corridors throughout the Rogue Valley.