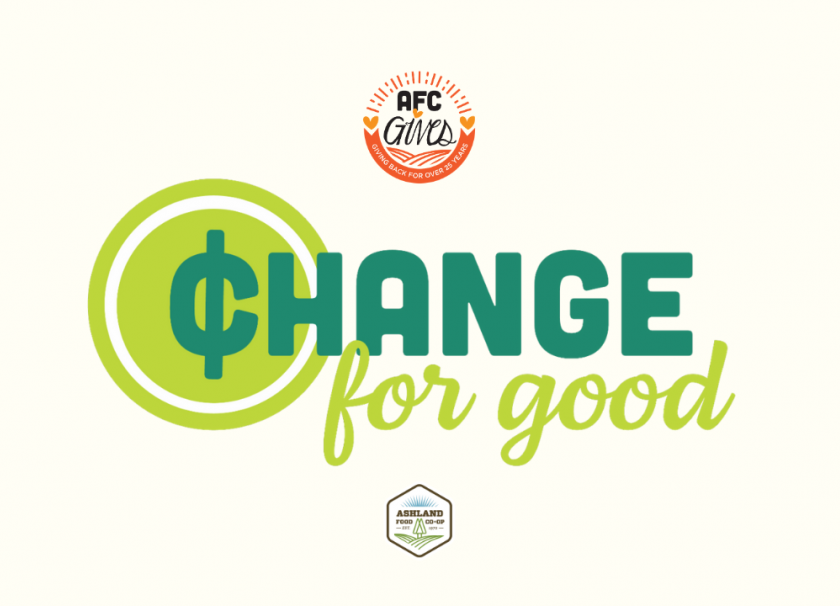 AFC's Change for Good Program enables shoppers to round up their purchases at the register so that the spare change will benefit a different local non-profit each month. Each month, the Co-op will partner with the designated non-profit to share their mission and engage our shoppers in their organization.
The AFC Gives Committee has selected sixteen finalists for the 2023-2024 Change for Good program representing four priorities: Equity, Diversity, and Inclusion; Basic Needs; Climate; Healthy Food; and Culture. The ten organizations receiving the most votes will be featured in the Change for Good program, beginning in the fall of 2023. 
Please vote for up to ten organizations.
Ashland Climate Collaborative
The next decade will be key to reversing climate change. Many federal and state policies have been adopted to reduce our dependence on fossil fuels and provide incentives for us to switch to renewable energy. Climate solutions are more affordable than ever, often with higher performance and quality of life benefits. Now we must pick up the pace to implement these solutions as rapidly, efficiently, and equitably as possible. The Ashland Climate Collaborative is dedicated to energizing, engaging, mobilizing our community to accelerate the adoption of locally appropriate and equitable climate solutions. We do this through our volunteer Action Teams: Electrify Ashland Now!, Streets for Everyone, Water Conservation, and Composting. We convene local neighborhoods, businesses, and organizations on climate solution topics. By coming together to address this challenge, and collaborating with other communities, we can and will significantly reduce our climate impact.
Ashland DEVO
Ashland DEVO is a community oriented non-profit dedicated to the mission of inspiring wellness in our youth by building grit, resilience, and camaraderie through mountain biking. DEVO carries out this mission through age based groups of 8-10 riders with trained coaches, creating peer-to-peer connections to support development of skills and confidence. Once riders are old enough (6th grade), DEVO introduces a stewardship component of programming. This provides over 250 yearly hours of trailwork, advocacy, community partnerships, and environmental clean up days to the local community. Ashland DEVO is committed to supporting equity in a traditionally exclusive sport, by providing scholarships and outreach to youth who may not otherwise have the opportunity to ride bikes in the mountains. This has created a community of riders from different walks of life, and with different goals - all connected through mountain biking, and benefitting from Ashland's amazing outdoor resources.
Ashland High School (AHS) Culinary Arts Program
The Ashland High School (AHS) Culinary Arts Program is a growing, American Culinary Federation-accredited CTE program providing college credit and National Restaurant Association certificates while teaching sustainable sourcing, organic ingredients, regional and international cuisine. School funding does not pay for sustainable/organic ingredients. Students explore the ecological, social, and economic implications of our global food systems, while preparing healthy food at school and community events. Teaching culinary arts integrates many life skills, including math and measuring, group collaboration, patience, the value of money, and the importance of health and diet. Each student gets an Oregon Food Handlers card, making it easier for students to get jobs. The program partners with many other non-profits such as Thrive and Rogue Valley Farm to School. According to the Center for Nutritional Studies, "Kids who cook become adults who cook and eat healthier than those who don't."
Cave Junction Farmers' Market
The mission of the Cave Junction Farmers' Market is to support our local community of farmers and families by providing a vibrant marketplace for all to gather around in support of healthy foods, meaningful arts, and continuing education. We provide SNAP matching programs Double Up Food Bucks and Protein Bucks, increasing the ability for low income families to acquire healthy foods, supporting small local farmers and encouraging a circular economy.  In addition to local farm booths, we invite local musicians to perform, RiverStars youth to perform. artists to show their wares and non profit groups to table information. Our Cultivate Kids program provides free hands-on sustainable farming activities for Illinois Valley youth, every Friday from 4-7 pm, April 14th - Oct 20th. This year our children's program is in the process of planting trees and  permaculture gardens at the market site! All funding from Ashland Food Co-op Round Up would support the Cultivate Kids Program, helping us acquire tools, supplies, and everything needed to help the kids make these gardens a success. 
Feral Cats Advocacy
https://feralcatsadvocacy.org/
Through our Trap-Neuter-Return and adoption/placement programs, Feral Cats Advocacy is working hard to create a better quality of life for our feline friends that is free of sickness, disease and hunger due to lack of resources because of overpopulation. FCA is dedicated to providing targeted support to the communities that struggle with the ability to pay for the services needed to humanely control the feral cat populations that can devastate a community. In addition, we want to be a part of creating a balance that helps to protect many species of wildlife from becoming negatively impacted by feral cat colonies. We are also diligently working to raise awareness, provide education, and advocate for policies and programs that will create a more humane, healthy and balanced environment.
Friends of Cascade-Siskiyou National Monument
https://www.cascadesiskiyou.org/
The Friends of Cascade-Siskiyou National Monument is committed to connecting people to the value of biodiversity and our shared public lands through a robust, dynamic, and growing set of educational, research, and stewardship programs for adults & children. Our programs instill in people a sense of care and ownership of the Cascade-Siskiyou National Monument (CSNM) as well as teach them how to tend to the diverse habitats within it so that these habitats are resilient and healthy for the extraordinary array of species who depend on them. Each year, the Friends organizes volunteers to enhance the Monument's habitats through field stewardship days focused on projects such as dispersing native seeds, pulling invasive weeds, monitoring species populations, and improving wildlife corridors by removing fencing. We also bring hundreds of adults & children into the CSNM to learn firsthand about its value and uniqueness. Our larger aim is that the impacts of our programs extend beyond the CSNM to inspire people to tread more lightly on Earth in their daily lives.
KS Wild
KS Wild's mission is to protect and restore wild nature in the Klamath-Siskiyou region of southwest Oregon and northwest California. We promote science-based land and water conservation through policy, community action, and education. We envision a Klamath-Siskiyou region where local communities enjoy healthy wildlands, where clean rivers are teeming with native fish, and where connected plant and wildlife populations are prepared for climate change. KS Wild achieves this vision through outreach and advocacy-based education, by building community support for the conservation of the region's special places and natural gems, and by being the watchdog and steward of northern California and southern Oregon's public lands, public trust waters, and the diversity of plant and animal life.
Our Family Farms
https://www.ourfamilyfarms.org/
Our Family Farms is a small volunteer led non profit with the capacity to perform large tasks that create transformational change. We envision a thriving, sustainable food and agricultural system with seed diversity and farmable land for generations to come. We defend the Jackson County GMO free seed sanctuary created in 2014, support farmers, and educate policy makers and the community at large about regenerative organic agriculture.
Peace House
Peace House has been serving the Ashland Community for 40 years. Our Uncle Food's Diner hot community meal program has been running for 30 years. We do our work with a total of 25 volunteers and 4 part-time staff. As with most nonprofits, the pandemic took a toll on our income, but we did deliver approximately 12,500 meals to the unhoused and low-income, four days-a-week during the pandemic, at five locations, rain or shine, stepping up from one day to four days during the pandemic for two years. Many displaced victims of the Almeda Fire have especially received food, as well. We have the ability to use our kitchen platform at the Methodist Church and our website/subscriber-list to respond to emergencies and community issues through food, news diffusion and conflict resolution skills as well as offering other resources.
Rogue River Watershed Council
Rogue River watersheds face challenges such as habitat loss, invasive species, development near streams, and a changing climate that puts watershed and community health at risk. Ecological restoration (the recovery of damaged ecosystems) offers an opportunity to address these challenges and restore the rivers, streams, and watersheds in our region for the benefit of natural and human communities alike. The Rogue River Watershed Council (RRWC) is a non-profit with a mission to enhance resilience in Rogue River watersheds through ecological restoration and engagement with community partners. Over the last eight years, RRWC has implemented more than ten restoration projects, including the rehabilitation of roughly 100 acres of streamside lands, improved accessibility to more than 16 miles of waterways for migratory fish, and coordinating collaboration to protect and improve drinking water quality across the Rogue Basin. We engage community partners and implement ecological restoration projects to build resilient watersheds, because watersheds that resist or bounce back from disturbances are the foundation of healthy communities.
Stream Smart: A Rogue Basin Clean Water Project
Stream Smart: A Rogue Basin Clean Water Project is a collaborative and educational community resource focused on watershed stewardship through water quality monitoring and streamside restoration. Since 2011, Stream Smart has grown from 5 members within the Bear Creek Watershed to 14 members representing the larger Rogue Basin, including Bear Creek. Stream Smart provides a hub for watershed information, volunteer opportunities, pledges (plant a tree, manage runoff at home, pick up after your pet, and reduce or eliminate pesticide use), and other ways of being Stream Smart at home. If selected to be a Change for Good partner, funding will support volunteers and events, our capacity to participate in restoration activities, and water quality monitoring capabilities through new equipment, as well as allow our message to be shared to a wider audience. Ultimately, we strive to empower individuals to be Stream Smart, helping turn our streams from brown to blue – change starts with you!
The CREST
https://www.thecrestatwillowwitt.org
The Crest is an educational non-profit that connects people to farm, forest, water and each other through Outdoor School, summer camp programs and restoration volunteer opportunities. Based at Willow-Witt Ranch near Ashland in the Cascade-Siskiyou National Monument, The Crest provides hands on learning experiences in sustainable and earth-honoring agriculture, wetland restoration, forest ecosystems and more. The Crest has a culture of safe and accepting practices that creates and atmosphere where students can feel secure and in tune with themselves in nature. We empower younger generation and encourage all generations to enact positive change through understanding vital knowledge and meaningful experiences in nature.
Rogue Action Center
https://www.rogueactioncenter.org/
RAC's Disaster Relief Team is re-imagining what community resilience and disaster relief looks like. We have witnessed first hand that the traditional system of disaster relief does not meet the needs of all impacted community members, especially those who live in marginalized communities. It is not a question of if, but when another disaster impacts our region. Culturally and regionally specific preparedness is vital in preparing ahead of Disaster. While the programs offered by state, federal, and direct service agencies are essential in the recovery process, additional support is required in order for survivors to access and utilize these programs. Centering the needs and input of survivors through mutual aid will not only benefit recovery, but provide a stronger foundation for communities experiencing future disasters. We are forming the infrastructure, relationships, and capacity to respond and rebuild in a different way, both in our community and the coalition we are building.
Rogue Advocates
​​Rogue Advocates is dedicated to preserving productive agricultural land and open space, to combatting unsustainable development, and to promoting vibrant urban centers in the Rogue Valley. We monitor Jackson and Josephine counties' planning departments for any land use proposals that could have a damaging effect on the livability and sustainability of the Rogue Valley. We spread the word about harmful projects and encourage public engagement in the land use planning process. And when necessary, we file lawsuits to make sure the counties comply with state law. Founded in 2006, we are a small but fiercely dedicated grassroots organization. We have no full-time staff, and depend on our volunteer board members to carry out our work with the support of donors and grants. Rogue Advocates is the Southern Oregon affiliate of 1000 Friends of Oregon, and also collaborates regularly with a range of local environmental groups, including Rogue Farm Corps, KS Wild, and SOCAN.
Rogue Climate
Rogue Climate is a climate justice organization based in the Rogue Valley and the South Coast. We develop the next generation of climate leaders through youth organizing training and internships. Our current core work areas include building the power of youth, low income, and BIPOC communities in Southern Oregon to envision and lead a just transition; building a strong movement of aligned organizations and partners that can accelerate a just transition across the region; stopping the development of new fossil fuel infrastructure in Oregon; supporting a just transition to renewable energy and greater energy justice in Southern Oregon and; supporting our communities to be better prepared for the impacts of climate change.
Siskiyou Mountain Club
https://siskiyoumountainclub.org/
We are dedicated to doing the hard work it takes to keep trails from disappearing from the remote corners of Southwest Oregon and Northwest California. We understand and appreciate the value of public lands and see these wild areas as some of the last common ground in America.