This lively chicken salad features kiwi, oranges and avocados with a simple Greek yogurt dressing.
Meal Type
Salads & Soups
Snacks & Dips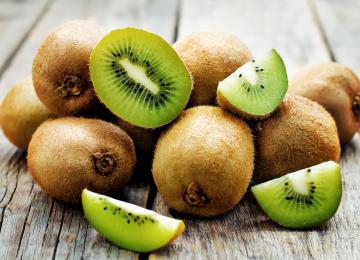 Ingredients
1 pound cooked chicken breast, chopped
1/2 cup full-fat Greek yogurt
2 tablespoons olive oil
1 tablespoon lemon juice
1/2 teaspoon salt
1/4 teaspoon pepper
2 large scallions, chopped
2 kiwi fruit, peeled and chopped
1 large orange, peeled and chopped
1 avocado, diced
1/4 cup slivered almonds, toasted
1
Place the chopped chicken in a large bowl. In a cup, stir the yogurt, olive oil, lemon juice, salt and pepper, and pour over the chicken. Add the scallions, kiwi, orange and avocado and toss to mix. Mix in almonds just before serving.