Kale Caesar Salad with Grilled Chicken
We've combined grilled chicken and kale to make a new spin on Caesar salad. Another great meal in a bowl recipe.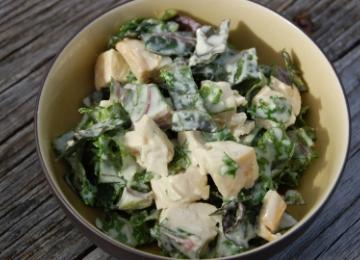 Ingredients
1 pound chicken cut into serving size pieces
1 tablespoon lemon juice
1 tablespoon extra virgin olive oil
3 garlic cloves, minced
½ teaspoon sea salt

Dressing
¼ cup capers
2 cloves garlic, minced
1 egg yolk
1 tablespoon Dijon mustard
Juice of two lemons
½ cup grapeseed oil
¼ cup extra virgin olive oil
2 cups Parmesan cheese
Water as needed
Salt to taste
4 cups kale, any variety, chopped fine
1
Place chicken in a glass baking pan. Combine the lemon juice, oil, garlic, and sea salt.  Pour over the chicken and coat on all sides. Cover and place in the fridge for at least 30 minutes before grilling.
2
In another bowl combine dressing ingredients. If needed, add a little water to moisten dressing. Taste and season with salt as desired. 
3
Pour about ¼ to ½ cup dressing over the kale and toss well.
4
Remove the chicken from the fridge and grill or broil until interior temperature is 165 degrees.
5
Dive the salad into four servings and place chicken on top.