Buckwheat Chocolate Chip Cookies
This will become your new favorite Gluten Free cookie recipe, using naturally gluten-free buckwheat flour and gluten-free oats.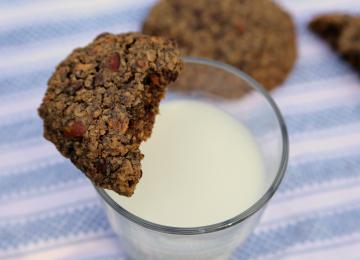 Ingredients
1 cup raw almonds
2 sticks butter unsalted
1 ½ cups brown sugar
¼ cup cane sugar
2 teaspoons vanilla extract
2 large eggs
1 ¾ cups whole grain buckwheat flour
¾ teaspoon baking powder
¾ teaspoon baking soda
½ teaspoon sea salt
3 ½ cups gluten-free oats
1 cup chocolate chips
1
Preheat the oven to 350 degrees.
2
Place the almonds on an ungreased cookie sheet. Put them in the preheating oven. When the oven is up to temperature, remove the nuts. Chop fine and set aside.
3
Meanwhile, cream the butter until light and fluffy.
4
Add the sugars and vanilla, cream again.
5
Add the two eggs and beat until the mixture is creamed again.
6
In a small bowl combine the flour with the leavenings and the salt.
7
Add the flour mixture in three batches mixing each into the batter.
8
Add the oats in three batches.
9
Add the chocolate chips and almonds mixing until they are just incorporated into the dough.
10
Grease the cookie sheet with the butter wrappers.
11
Drop dough by rounded tablespoons onto the cookie sheet.
12
Bake for 12 minutes. Let cool a few minutes on the sheet, then move to a counter or cooling rack.
13
Yields 48 nice sized cookies.