Change up taco night, or weekend breakfast, with this easy, comforting Mexican dish.
While traditionally served for breakfast, this hearty version of chilaquiles with chicken makes a quick weeknight main dish, too. Salad greens tossed with crisp radish slices and quick-pickled red onions are a tasty side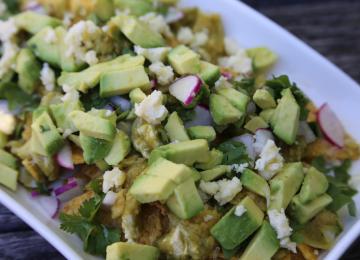 Ingredients
1 16-ounce jar tomatillo salsa
1 cup diced white onion
1 jalapeño, seeded and chopped
3 poblano peppers, seeded and diced
1/2 bunch cilantro, chopped
6 cloves garlic, minced
1 teaspoon sea salt
1 pound chicken tenders
Tortilla chips
1 1/2 cups crumbled queso fresco cheese

Optional Topings
1 1/2 cups diced avocado
1/2 cup chopped cilantro
1/2 cup sliced radishes
1 lime, cut into wedges
1
In a food processor or blender, blend together the salsa, onion, peppers, cilantro, garlic and salt.
2
Pour the blended sauce into a skillet over medium heat, add the chicken tenders and cook for 8 minutes, turning tenders halfway through the cooking time, until chicken is cooked.
3
Line a rimmed baking sheet with parchment paper. Place a layer of tortilla chips on the baking sheet, pour half of the chicken and sauce on top and add half of the queso fresco. Add a second layer of tortilla chips, chicken and sauce, and top with the remaining queso fresco and your choice of optional toppings. Serve immediately.