Chicken Antipasto Sandwich
If you like the slight tanginess of Italian marinated vegetables, you will love them paired with pesto, Asiago cheese, chicken and ham in this super sandwich. Look for a focaccia bread thick enough to split and stuff with goodies, or a wide baguette that will cradle all the delicious fillings.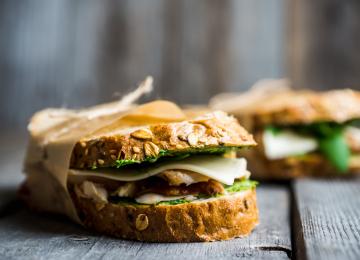 Ingredients
1 cup chopped cooked chicken
1 6-ounce jar marinated artichokes
1/2 cup chopped pitted Kalamata olives
1/2 cup slivered roasted red peppers
1/4 cup chopped fresh parsley
2 cups shredded Asiago cheese
1 large baguette or focaccia
1/4 cup prepared pesto sauce
4 slices ham
Olive oil
1
Drain the artichokes, reserving 1 tablespoon of the marinade. Place the chicken, artichoke hearts, reserved marinade, olives, peppers, parsley and cheese in a medium bowl and toss to mix. Slice the focaccia or baguette in half lengthwise. Spread the pesto over one cut side and cover with the chicken mixture. Top with sliced ham and the remaining half of the bread.
2
Cut the sandwich into four sections or wedges. Heat a griddle or large cast iron pan over medium-high heat until hot (holding your hand an inch away will feel very hot). Lightly brush the top and bottom of the sandwich sections with olive oil and place in the hot pan, then place a second pan or a heavy pot on top. Cook for 2 minutes per side, until the cheese is melted and the bread is toasted. You can also use a panini grill to heat the sandwiches, or, in a pinch, wrap sandwiches in waxed paper and microwave them to melt the cheese. Serve warm.