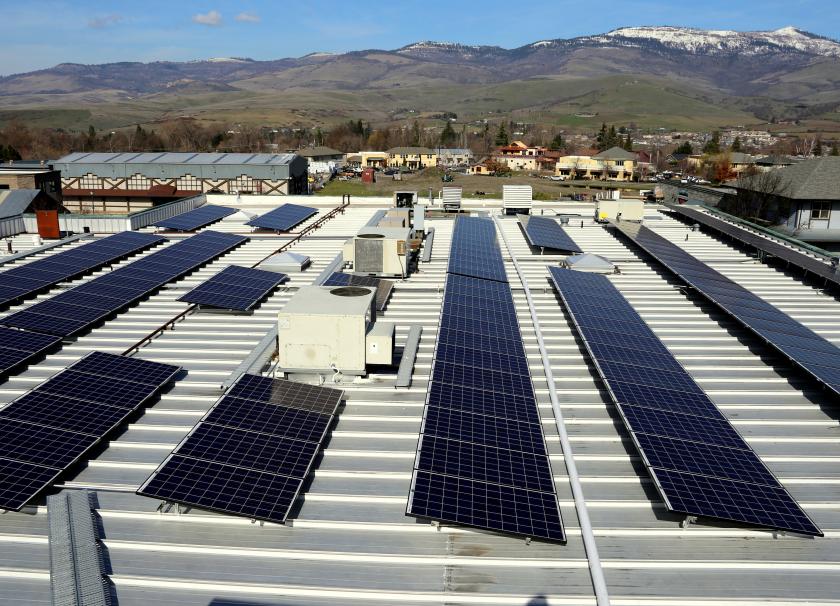 February 15th, 2018
On the Road to Sustainability
By Laura Pfister, Media Coordinator
Forty six years ago, a group of families formed a buying club to access sustainable, local organic food as an alternative to modern industrial agriculture. This humble foundation of social and environmental responsibility started the Ashland Food Co-op and has shaped every decision we've ever made. It's how, over four decades later, that a small buying club became a 30 million dollar, 17,500 square foot Certified Organic Retailer diverting 82% of their discards from the landfill.
But we wouldn't be where we are without you. As a community-owned grocer, we aren't accountable to private investors or distant shareholders — we are accountable to you, our owners and customers. We're committed to our community and the greater world we share. That's why we have some big goals.
By 2030, the Ashland Food Co-op will be zero waste and carbon neutral, a living model of cooperation with the laws of nature in all our affairs.
From energy and water conservation to LED light fixture upgrades, every year we make progress with this end goal in mind.
We only use energy from climate-neutral renewable sources, and we only use what we need. We purchase 100% renewable electricity, offset all of our business-travel carbon emissions, and use Water Restoration Certificates to lessen the impact on critically dewatered rivers in our region.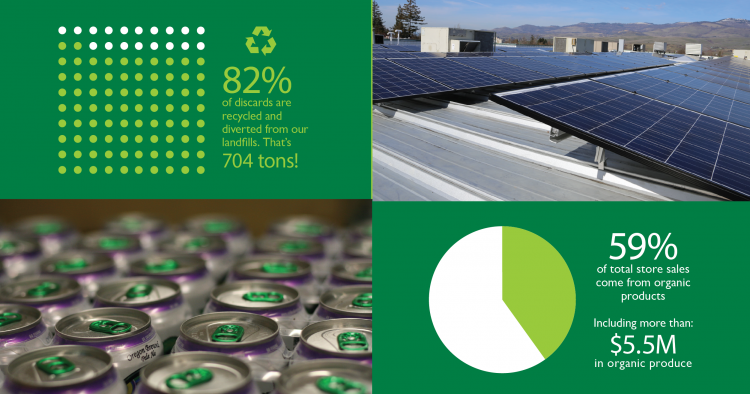 We made significant upgrades to our cooling infrastructure, including the installation of LED lighting in all of the refrigerated cases and new, more efficient cases in our produce and meat departments. In 2016, we expanded our roof-top solar array, adding 150 Solar World panels (made in Oregon!) generating 42kW towards our power needs. We donated the old panels to the Ashland Emergency Food Bank and our community partner, True South Solar, installed them free of charge. And just this past Fall we installed a 12 kilowatt system on our storage barn. In total, we now have 54kW of solar.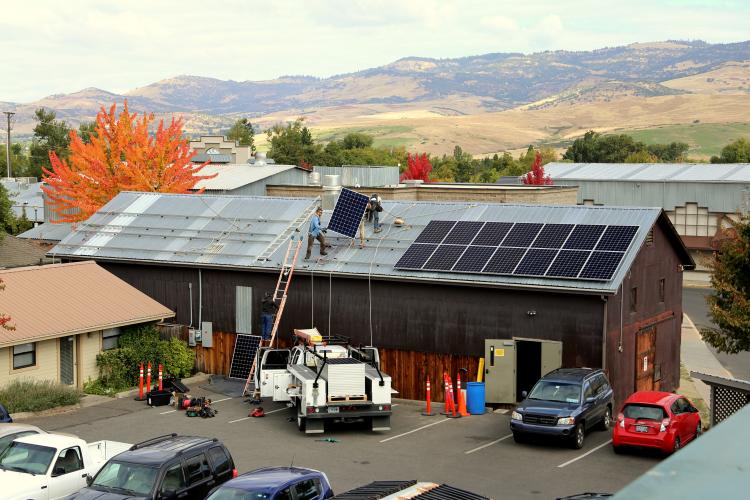 The road to 2030 will be difficult. But we're confident that with the support of our community and owners, we can do it. We share a commitment to social and environmental responsibility. And because Southern Oregon has given us so much, we give back in everything we do.
In April, we will be celebrating sustainability and Mother Earth all month long. We invite you to join us at one of the following events.
Zero Waste Hero
Improve your conservation practices with tips and tricks for a zero waste kitchen while enjoying recipes designed to reduce your food waste. Sign up here.
Bear Creek Clean Up: Ashland
The Ashland Food Co-op invites all community members to join us in an effort to keep our Bear Creek clean. This year we are clearing blackberries from Ashland Creek Park to slow their march into Bear Creek. Ashland Parks & Recreation will provide all gloves and gear needed to remove blackberries. Please wear comfortable clothing you don't mind getting dirty and closed toed shoes. Meet at Ashland Creek Park on Saturday April 21st at 9am. Snacks and coffee will be provided.
Rogue Valley Earth Day
Rogue Valley Earth Day is a joyful, annual event for all ages to learn about environmental stewardship and build community in a fun and inspirational setting. Join us Saturday, April 21st, 11am - 4pm at ScienceWorks.
Co-op Sustainability Tours
Get to know your Co-op a little better on Earth Day. The Ashland Food Co-op is offering 30-minute walking tours of our sustainability efforts from Noon to 2pm on Sunday, April 22nd.
The impact of our efforts to change the world increase when we work together.
You can help us reduce unnecessary waste by taking action in the following ways.
Opt Out of Paper Receipts
Opt out of paper receipts and get them emailed to you instead.
Durable Container Discount
Dine in at the deli and receive 15¢ off for each durable plate or bowl you use. Bring your own cup and receive 15¢ off the cost of your beverage.
Bicycle Benefits
Participate in our Bicycle Benefits program. Pay a one-time $5 fee, receive a sticker for your helmet, bike to the Co-op and save 5% on your shop.
More Co-op News