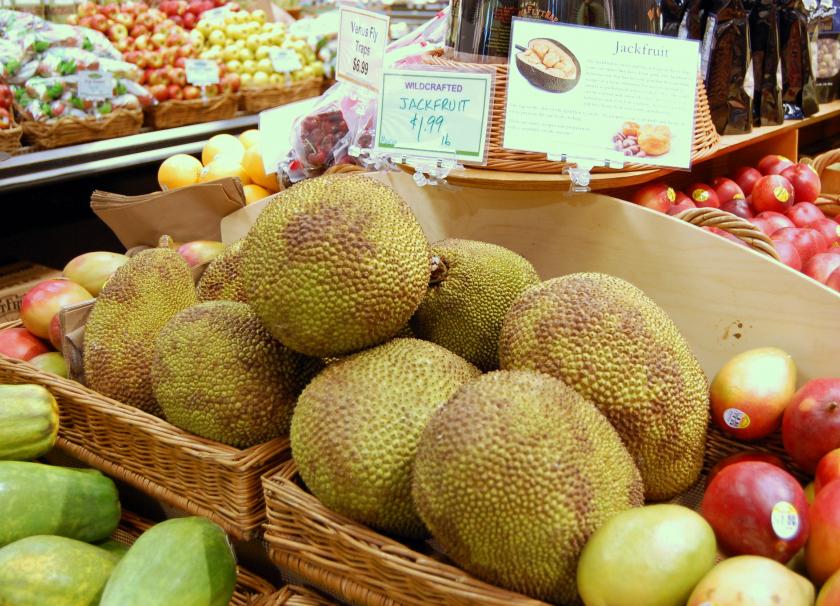 May 25th, 2016
Jackfruit 101
You might have noticed a rather large, prickly fruit hanging out next to the apples, oranges, and papayas in the Produce Department. Meet the Jackfruit, the newest addition to the Produce Department. In case you don't know "jack" about Jackfruit, here is a crash course.
The Jackfruit is native to South and Southeast Asia and is a close cousin of the fig.

The Co-op sources the fruit from Patagonia Orchards. Their fruit is grown in the tropical rainforest of Nayarit, Mexico.

The tropical taste blends notes of mango and pineapple with a hint of pear.

Jackfruit is high in Vitamin C, potassium, iron and B vitamins.

The fleshy fruit is also very high in protein making it a great "meat" substitute. Sounds strange we know, but give this recipe for BBQ Jackfruit Sandwiches a try.

Jackfruit also has a low glycemic index which makes it great for athletes as well as diabetics.

Like a pineapple, you remove the rind, core and fibers of the Jackfruit before eating.

It's a fun, sticky fruit so you might want to oil your hands and knife before handling.

The seeds can be roasted and eaten like chestnuts or boiled like potatoes.
Jackfruit can be an intimidating fruit to navigate. If you are still bewildered check out the plethora of resources on YouTube. You'll be slicing up and devouring Jackfruit in no time.
More Co-op News