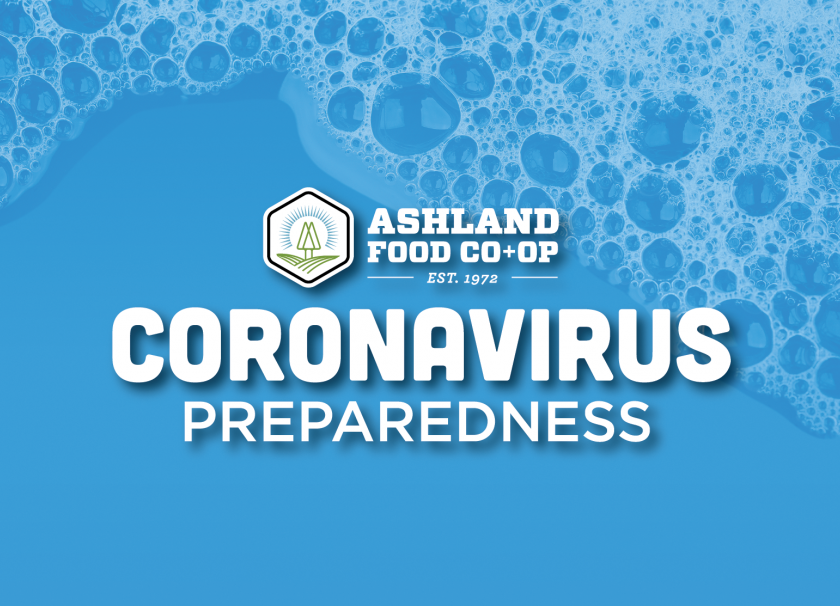 March 30th, 2020
Coronavirus Preparedness at the Co-op
The Ashland Food Co-op acknowledges and shares our community's concerns about protecting against the spread of COVID-19 (Coronavirus). The safety and health of staff and customers is a top priority for the Co-op. We are taking proactive steps throughout our store to maintain a clean atmosphere to work and shop.
March 30 update
Since March 1, staff are receiving a 'hero' differential pay as an acknowledgment of their essential service to the community.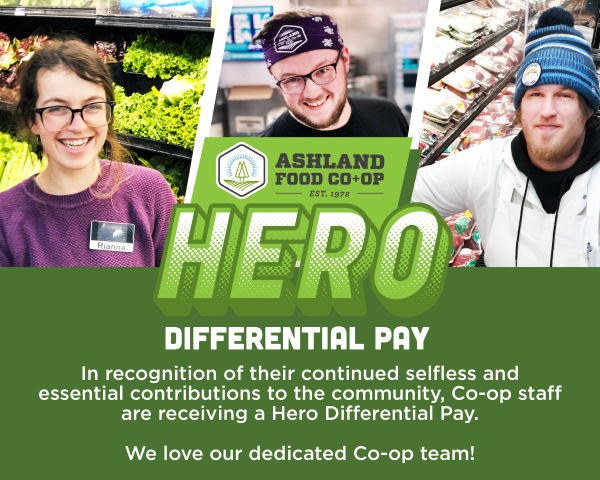 In compliance with the State of Oregon's "Stay at Home" executive order, please do not hang out or otherwise loiter in the Co-op courtyard or store.
The parking ambassador service has been postponed for the time being.
March 27 update
Plexiglass barriers have been installed to help protect cashiers and shoppers where social distancing isn't possible. Thanks to the many shoppers who encouraged this addition.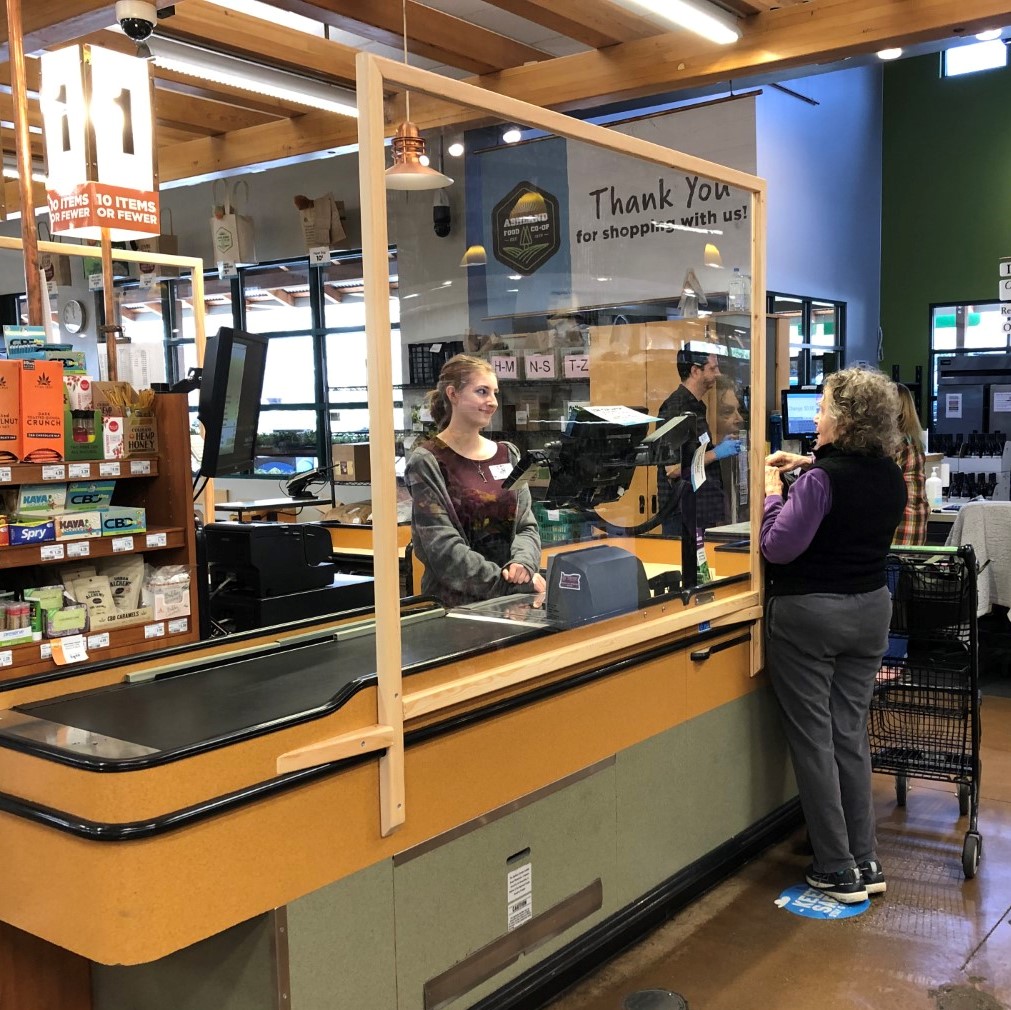 You'll find social distancing reminder stickers at checkout stands and throughout the store. Thanks for helping to share your space.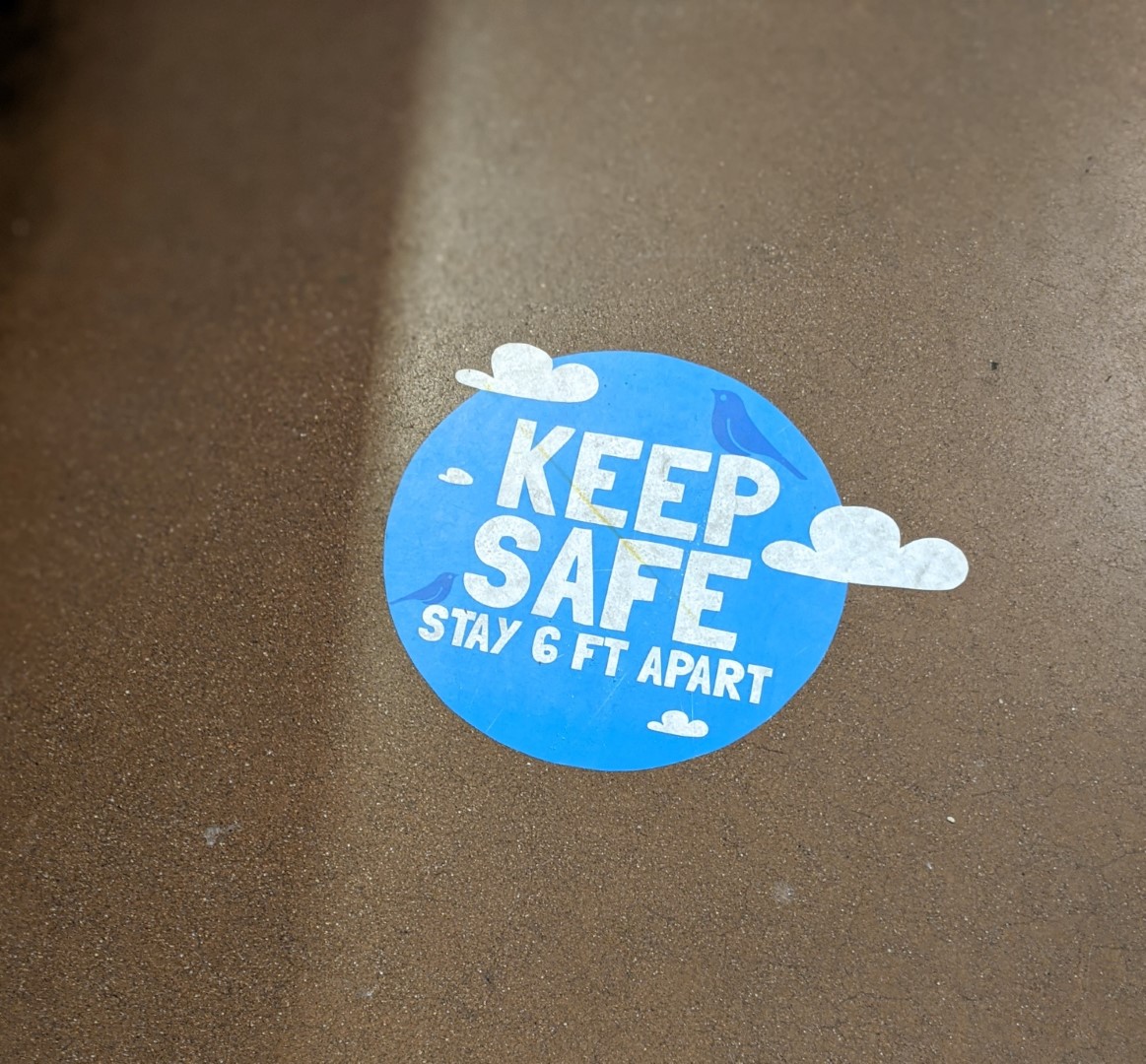 March 19 update
We have consolidated the last week's changes below.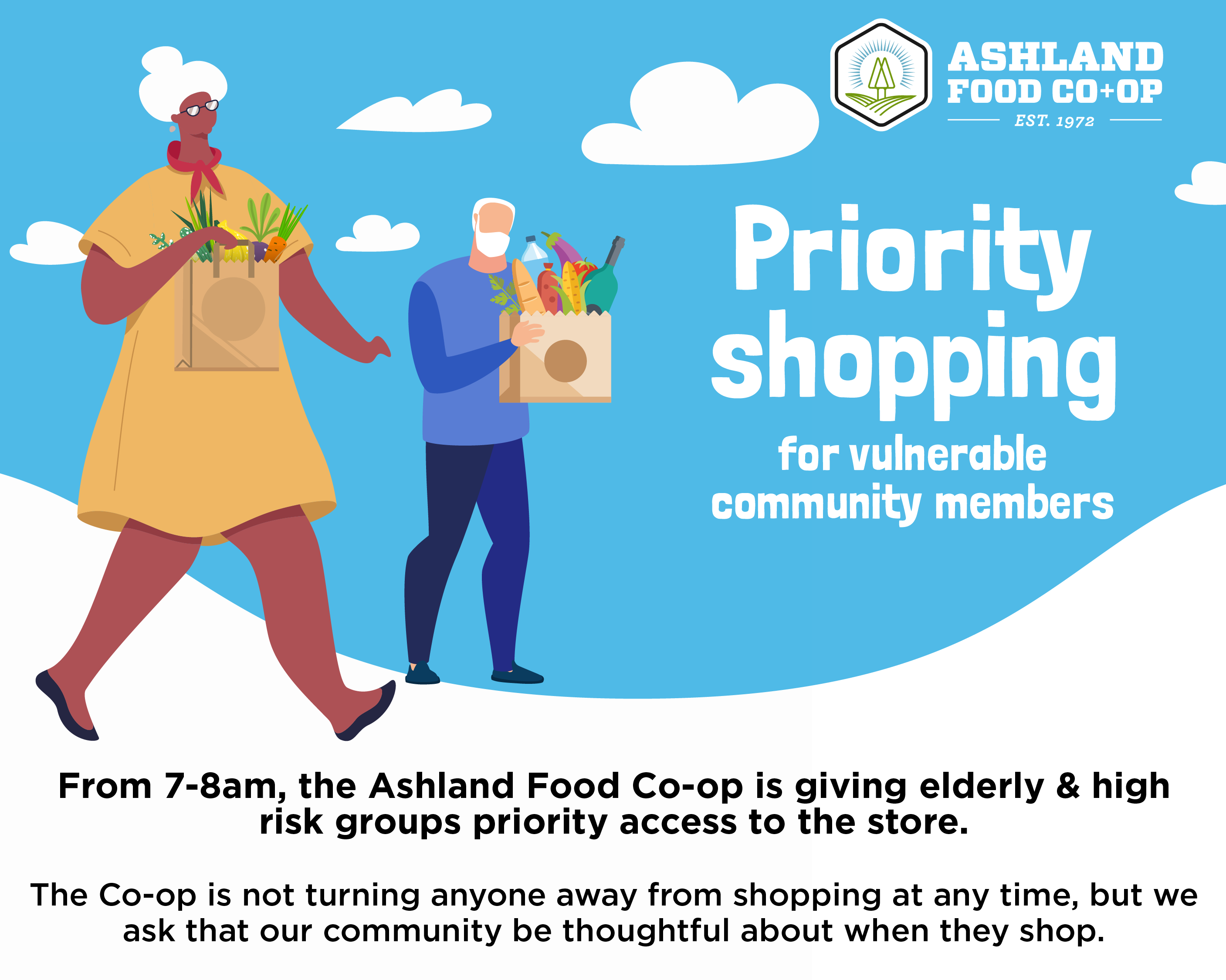 Starting March 20, 7am-8am daily, the Co-op will give priority to vulnerable community members (seniors, immunocompromised individuals, etc.). Thank you for adjusting your shopping hours to accommodate your neighbors in need.
Special orders & returns:
The Co-op cannot accept any special orders until further notice.
To reduce potential contamination, all sales are final and no returns will be accepted.
Before entering the store:
Operating hours are 7am-9pm. 7am-8am is prioritized for vulnerable populations, and we ask those with good health and flexible schedules to please shop at a different time.
Please leave your reusable bags, containers, and mugs at home. With the public's health in mind, the Co-op wishes to minimize outside sources of potential infection. Paper grocery bags and plastic produce bags are available free of charge.
Sanitizing wipes are available at all cart stations.
A portable hand washing station is also available outside of the store.
In the store:
A no-touch hand sanitizer dispenser is located at the Information Desk.
Plastic gloves must be used in the "high-touch" areas throughout our store (bulk department, bulk greens, and fresh mushroom case).
For your safety we can no longer breakdown or re-wrap any meat or seafood that has entered our selling floor. Other special requests can not be accommodated until further notice.
Bulk nut butters are being individually packaged and stored in the bulk cooler.Please help protect cashiers and yourself by bagging your own groceries, if you are able.
Co-op Kitchen:
No outside mugs or containers are permitted until further notice.
All indoor and outdoor seating has been removed, in accordance with state directives.
The hot bar, salad bar and soup bar are no longer self-service; Co-op employees will help to box your meal to-go.
Self-serve coffee is no longer available.
The Co-op has increased the number of items available as "Grab & Go" selections.
Overall sanitation:
Cleaning frequency has been increased, especially of door handles, work surfaces, checkstands, phones and other common "high-touch" items in our facilities - and particularly before the 7am-8am priority shopping hour.
Classes, events and sales:
More Co-op News