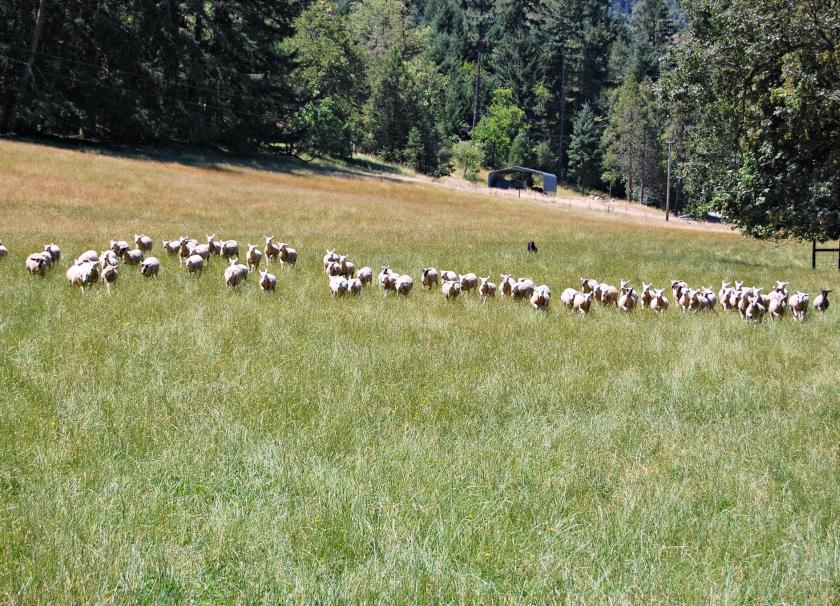 July 23rd, 2019
AFC Celebrates 20 Years with Magnolia Farms
This year, the Ashland Food Co-op proudly celebrates their 20 year partnership with Magnolia Farms. Their pasture raised, no antibiotics, no hormones lamb is a staple in the Co-op Meat Department. Magnolia Farms is graciously donating the lamb for our August First Friday in celebration of our long standing partnership.
Magnolia Farms is located outside Roseburg, Oregon on Deer Creek, owned and operated by Elissa Thau. The flock is comprised of three different breeds, Suffolk, Coopworth and Montadale. These breeds are all noted for their lean, tender meat and ability to thrive on pasture. The mild climate in Douglas County enables them to produce quality pasture year round, so unless Mother Nature deals an unexpected week of snow, or a drought, Magnolia Farm's lambs never require supplemental feeding. 
In fall and winter the lambs graze primarily on ryegrass pastures. As spring arrives the pastures become a wonderful "salad bowl" mixture of grasses, clover, chicory, plantain, and dandelions. With the arrival of summer, she begins irrigating the pastures, which become predominantly white clover. At all times the lambs have access to plenty of clean, fresh water, a salt-mineral supplement and plenty of shade and shelter from the elements, from big maple, fir and myrtlewood trees. 
Elissa wants her lambs to lead healthy, happy, stress-free lives. This was a driving factor to find stores who would be interested in selling Magnolia Farms. It was important to not subject the flock to the fear and stress that goes along with shipping in large numbers to feed lots, an environment that is completely different from what they are used to.
The goals of Magnolia Farms are to combine the quiet, humane husbandry of the flock with an ethical stewardship of the land and provide you, the consumer, with healthful and delicious lamb. 
Join us at our August First Friday Party on August 2nd from 4-7 PM and meet Elissa Thau, owner of Magnolia Farms. We will be dishing up her delicious lamb in a wrap with Tzatziki sauce for the community meal.
More Co-op News