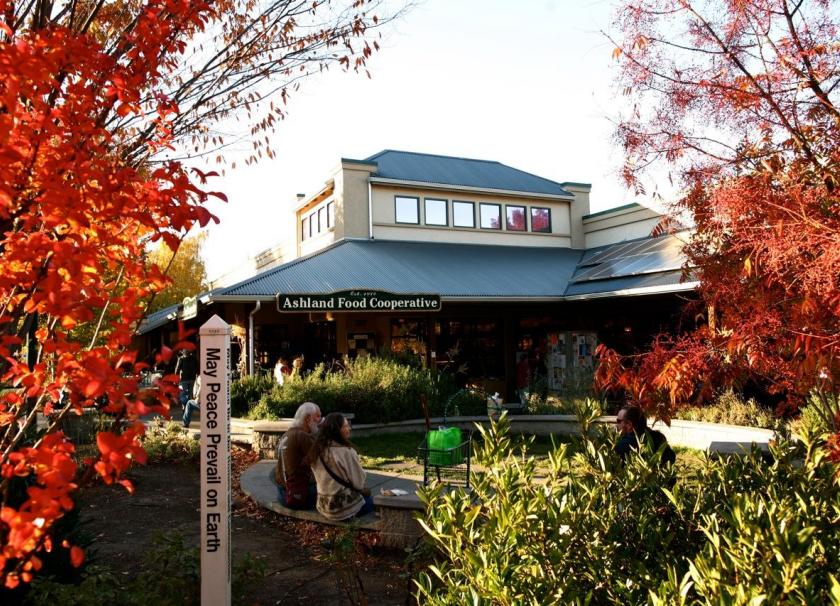 December 30th, 2015
31 Reasons to Visit the Co-op
Happy 2016! It's a brand new year, new month, new day. No doubt many of you've made a variety of resolutions to make this year the best yet. The Co-op can help you succeed. How? Let us tell you. Here are 31 reasons why you should visit the Co-op every day this month to improve your life and your community.
1. You can own it! More than ever, we are aware of where every dollar we spend goes. Become an owner and the money you spend at the Co-op is an investment back into your community. For every $1,000 spent at a local food co-op, $1,604 is generated in our local economy. Now that's a win, win, WIN!
2. Have you heard about Co+op Basics? Quality, organic food at low prices, what could be better? Co+op Basics offers everyday low prices on many popular grocery and household items. Baby products, canned goods, meat and more.
3. Stretch your dollars even more with our Pantry Basics Cooking Class. Learn how planning and prep make cooking on a budget fun and flavorful. Free to Co-op owners, what a deal!
4. Do you want to save more money? Yes! Easy answer. Sign up for our Weekly Sales and Events email. More ways to save at the Co-op delivered to your inbox every Tuesday morning. Plus, you will stay up to date with store events, cooking classes, and seasonal  recipes.
5. The Weekly Sales Flyer features big savings on products from every department. On sale this month, Garden of Life Raw Fit. Jump start your New Year's resolution with this high-protein, weight loss supplement. Stop by the Wellness Department to learn more!
6. Not sure what to make for dinner tonight? We have your Meal Solutions. Every Tuesday, Thursday and Saturday we conduct tastings of a variety of recipes that are perfect for your dinner table any night of the week.
7. Everybody is welcome! Simple as that. You don't have to be an owner to shop at the Co-op. Come on in and see what we are all about!
8. From non-violent communication to health related topics, every Monday night we have a FREE lecture open to the public. Check out the Co-op Calendar to view the current schedule of Free Monday Night Lectures. 
9. On Tuesdays, we feature a giveaway on our Facebook page. It's your chance to win FREE products from the Co-op. Vitamins, produce, Co+op Basics items, recipe ingredients, and more! Like and follow us on Facebook for your next chance to win.
10. New this past fall, Big Deals! Look for the Big Deal! signs throughout the Co-op for big savings. You'll see the bright orange signs on everything from meat to mandarins.
11. Every month we offer a variety of cooking classes. Italian food, healing tonics, and chocolate tempering, learn to cook it all at the Co-op! New this year, our Kidtastic Cooking class. We've partnered with Rogue Valley Farm to School to offer this family friendly class that will include kitchen tasks, safe knife skills and healthy cooking.
12. What's the best on-the-go lunch spot in Ashland? The AFC Deli of course! From the Hot Bar to the Burrito Menu, we've got healthy food options for vegans, vegetarians, carnivores and more. Fun fact: our deli pays the most meals tax in Ashland, come and see why!
13. We love community. Every year the Co-op awards grants up to $1,500 to nonprofit organizations in our region. Last year, the Co-op donated over $23,000 to 32 non profit organizations through our Community Grants Program.
14. Local is the name of the game and the Co-op always takes first place. We carry local products, invest money back into the community, and buy from local farms and vendors. Did you know that on average the Co-op supports over 250 local companies?
15. The January Meal Solutions schedule is soup centric. After all, winter is soup season. Try these tasty creations this month- Black Bean Avocado Soup, Ginger Spiked Carrot Soup, Breakfast Noodles from Vietnam, and Beef, Barley and Veggie Soup.
16. Connect with us outside the store! Did you know the Ashland Food Co-op is on Twitter, Instagram and Pinterest? Follow us for organic food news, recipes, events and more.
17. No matter what your resolution is, our Wellness Department has something to aid you in your New Year's journey. Essential oils, probiotics, CBD products and more!
18. Free beer and wine tastings every Wednesday and Friday, 4pm - 6pm, at the Culinary Kiosk. Need we say more?
19. Speaking of free tastings, did you know we offer tasting and product demonstrations almost every day at the Culinary Kiosk? This is your chance to meet the maker of your favorite Co-op products. Sample seasonal produce, local artisan coffee, hand crafted cheeses, and more. See the blackboard at the kiosk for upcoming events/tastings.
20. Italian, Garlic and Basil, Smoky Cajun, Tequila Lime… all flavors of AFC's very own homemade sausages. With eight flavors of chicken and five flavors of pork, we've got your go-to meat for breakfast, soups, and pasta dishes. 
21. Did you know there are over 300 recipes on the AFC website? Don't know what to make for dinner tonight? Find inspiration with us. A staff favorite is the Lentil, Kale, Chicken Sausage, and Rice Soup. This recipe is easy, affordable and most importantly delicious.
22. We pride ourselves on excellent customer service. We want you to be happy with your shopping experience at the Co-op. Not satisfied with a product? Stop by the Information Desk and inquire about our return policy.
23. Sustainability is a key pillar of our day to day business operations. Did you know?
Last year, approximately 200,000 glass bottles were brought in to AFC, recycled, then crushed and used for road base in the Rogue Valley
For over 20 years, a local sheep herder has collected the Produce Department's compost for feed. This offsets our landfill waste by 35%.
24. Trying to eat more fruits and vegetables this year? The AFC Juice and Smoothie Bar makes that an easy and delicious resolution. Try the Ashland Sunrise, Green Light, or Island Bliss next time you are in the store.
25. Making a lifestyle in 2016? Starting to eat Paleo? The Co-op has paleo friendly products to get you started on your new food journey. Try Pederson's Natural Farms No Hickory Smoked BaconJilz Gluten Free CrackerRed Boat Fish SauceCoconut Secret Coconut Aminos
26. At the Co-op, it's easy to get kids involved with grocery shopping. Start with one of our mini kids carts, a small grocery list, and a free banana to fuel the shopping. Kid friendly grocery shopping never looked so good!
27. We truly have a world class, local wine selection. Slagle Creek "Pini" Tempranillo - Cabernet Sauvignon, owner/winemaker Bob Denmen utilizes his neighbor's super low yielding Pini Vineyard for this terrific red. Organic and biodynamic Cowhorn Vineyard Spiral 36 was just named Forbes magazine "White Wine Value of the YEAR". Red, white, oaky, or bright, the Co-op meets all your wine needs.
28. The produce at the Co-op is off the hook, arguably the best in the Rogue Valley. The selection is carefully curated to be the most fresh and sustainably grown. Rachel Rose, Assistant Produce Manager, recommends local carrots this time of year. "Wintertime carrots are the sweetest of carrots. When the weather gets cold, carrots and other hearty vegetables, will generate more sugars to help protect themselves from freezing."
29. Chocolate makes the perfect gift for any occasion. With nine shelves dedicated to the sweet treat, the AFC chocolate selection is one of a kind. Unique flavors, organic, fair trade, dark and milk chocolate, we have something for everyone.
30. One of the most popular dishes in the AFC Deli is meatloaf. It's made in SIXTY pound batches. We use ground turkey and Emerald Hills grass-fed beef, alternating the two from one day to the next. Which one is your favorite?
31. The Ashland Food Co-op is Southern Oregon's only Certified Organic Retailer. The entire staff at the store has been trained to uphold the organic standards set forth by the USDA and Oregon TILTH. This training ensures that cross contamination from conventional products does not happen throughout the receiving, storing or stocking process. When you buy organic produce at the co-op, it is the real deal.
Since there are only 31 days in January, we'll stop here. But there are many more reasons you should visit the Co-op this month. Stop in and you'll see why!
More Co-op News