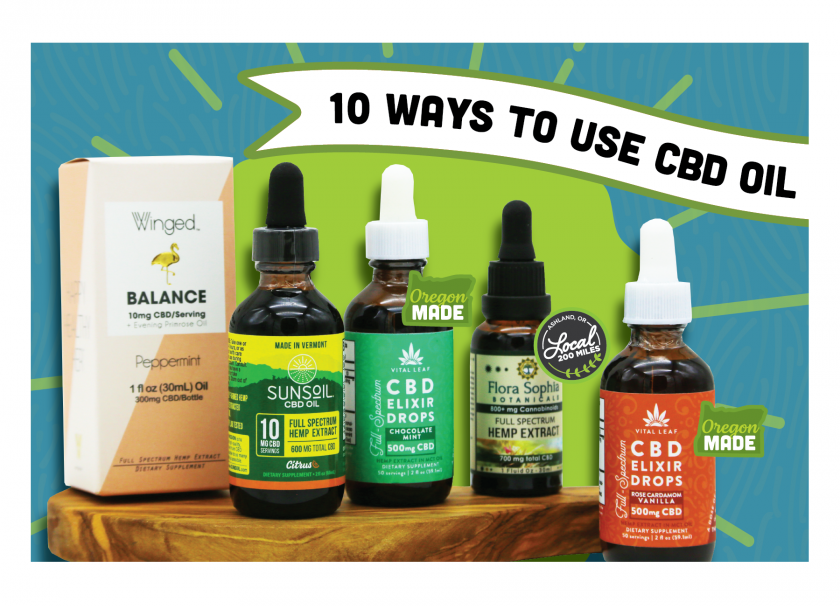 February 28th, 2020
10 Ways to Enjoy: CBD Oil
Morning Coffee: Add your normal dose of CBD oil tincture. Want to try something fun? Add Vital Leaf 's Chocolate Mint CBD elixir to your mocha or cup of java.
 
Smoothie Time: Sunsoil's citrus flavor CBD oil is a great compliment to your smoothie break.
 
Mid-afternoon Pick Me Up: Add Vital Leaf's CBD Elixir Drops in the rose cardamom vanilla flavor and mix into your favorite bubbly seltzer - an easy mocktail to enjoy.
 
Salad Dressing: CBD oil works great in creamy or vinaigrette style dressing. Just swirl and enjoy!
 
Spreads & Dips: Stir into your pesto, hummus or favorite condiment to take them to the next level.
 
Snack Time: Try our Crunchy Roasted Chickpea recipe and toss them in some Flora Sophia Botanicals Full Spectrum Hemp Extract after the roasted chickpeas have cooled.
 
Double Herbal Drink: Need a little balance in your world? Try your favorite herbal tea and Winged Balance Peppermint CBD oil anytime of the day.
 
Italian Pizzazz: Drizzle one of our CBD oils over your favorite pizza or pasta dish. Buon appetito!
 
Don't Forget Dessert: Next time you want a sweet treat, try Vital Leaf chocolate mint CBD elixir in our Dairy-Free Mint Shake recipe.
 
Wrap-up Your Day: Try some CBD oil in your bubble bath. Relax and soothe - ahhhhh.
 
More Co-op News