Crunchy Roasted Chickpeas
These crunchy protein bites make the perfect snack or salad topper. Take them backpacking or set them out as a game day appetizer. You can snack on them anywhere anytime.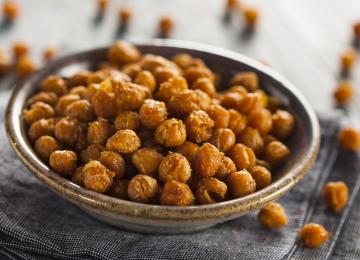 Ingredients
1 (12 ounce) can chickpeas (garbanzo beans), drained
2 tablespoons olive oil
Salt to taste
1/2 teaspoons Cayenne pepper (optional)
1 teaspoon Chili powder

1
Preheat oven to 400 degrees 
2
Rinse and drain chickpeas, dry with paper towel or clean cloth towel. The drier the chickpeas the better they will crisp up. 
3
Toss dried chickpeas with olive oil and salt.  Spread evenly on baking sheet and roast for 45 min to one hour or until desired crispiness. Check after 20 minutes and shake chickpeas to crisp all sides.  
4
When finished roasting toss, with cayenne and chili powder.
Serve hot