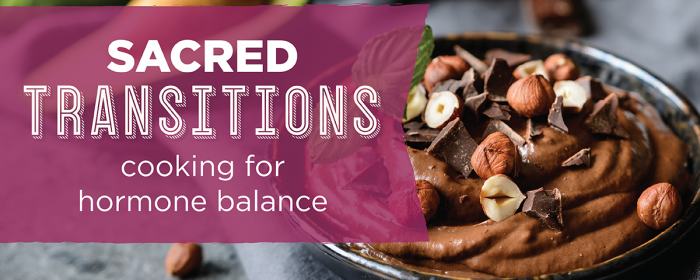 Sacred Transitions: Nutrition for Ease in PMS, Peri-Menopause, and Menopause
to
This event has been cancelled.
The transitional phases of the female cycle require certain nutrients to aid in hormonal shifts to reduce issues like insomnia, hot flashes, vaginal dryness, excess weight gain, period cramps, exhaustion, and food cravings. These transitions, such as the luteal phase in the menstrual cycle, peri-menopause and menopause are some of the most powerful transitions for a woman emotionally and food can definitely aid in this process! Join Allie McFee, Hormone Balancing Chef, for a menu consisting of: Hormone-Supporting Herbal Tonic, Collard Wrapped Veggie Burritos with Creole Spiced Sweet Potatoes, Home-made Lemon Tahini Sauce, and Divine Chocolate Avocado Pudding. 
Refund Policy
Please note that we cannot issue refunds for missed classes or cancellations that are made within 48 hours of the class.
More Cooking Classes