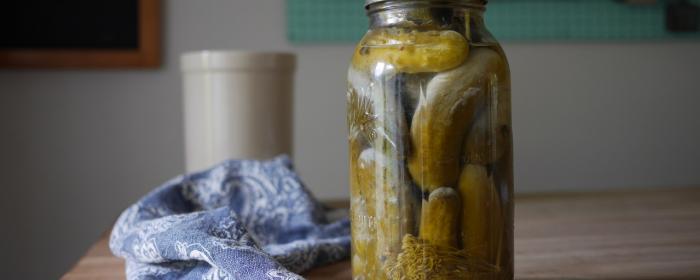 Probiotic Pickles : Hands on Fermentation Class
to
Pickling is the art of acidifying vegetables for flavor and preservation. But these aren't your grandmother's vinegar pickles, from asparagus to zucchini any vegetable can be pickled with fermentation. Learn the art and science behind lactic acid fermentation, taste the incredible flavors this method has to offer and learn how these foods are an important piece of gut health. And finally put it into practice by using fall vegetables to make your very own jar of fermented pickles to take home.
Refund Policy
Please note that we cannot issue refunds for missed classes or cancellations that are made within 48 hours of the class.

Instructor:
Kirsten Shockey
Kirsten Shockey, co-author of best selling Fermented Vegetables and forthcoming Fiery Ferments, got her start in fermenting foods with her family's farmstand food company, where they created over forty varieties of cultured vegetables and krauts. When Kirsten and her husband, Christopher, realized their passion was for the process, they chose to focus on teaching the art of fermenting vegetables. They now teach classes at their farm and host small farm workshops. Kirsten maintains their blog at ferment.works. They live on a 40-acre hillside homestead in the Applegate Valley of Southern Oregon.