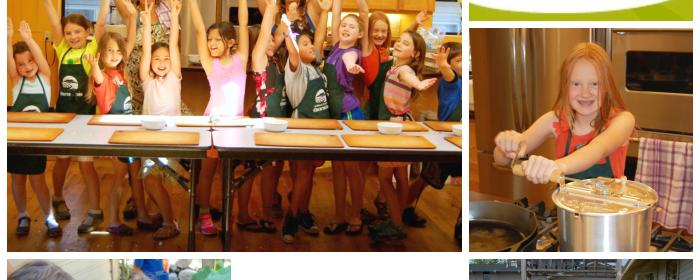 June Kids Summer Camp: Eat Your Way Around The World!
to
Special Notes
Here are some special notes about this event. Here are some special notes about this event. Here are some special notes about this event. 
We've teamed up with Rogue Valley Farm to School to offer three different camps this summer. Each week campers will dive into food production, preparation and exploration, with a mix of farm and kitchen experiences that delight the senses and inspire the soul. Join Rogue Valley Farm to School staff as they cultivate the ability to grow and cook delicious, healthy, seasonal meals.
Eat Your Way Around The World! Campers will learn how to prepare healthy, delicious meals from scratch, inspired by foods from cultures around the world. Please send your child with a healthy, non-sugary snack each day. Lunch will be provided, prepared hands-on by the campers! Ages 7-9
This listing is for June 19-23, 9am-1:30pm
Other camp dates: July 17-21 Soup, Salads, and Sandwiches or August 7-11 Food Preservation Experimentation
Monday-Tuesday-Wednesday will be cooking in the Co-op Classroom. 
Thursday-Friday will be on-farm at the SOU Center for Sustainability. Please send campers with a reusable water bottle, sturdy closed-toe shoes, and clothes that they can get dirty.
Cost for each camp: $175 Co-op Owners, $180 General Public
Scholarships available for Jackson Care Connect members who must register at the Info Desk. Scholarships available for one session. All others may register online.
Refund Policy
Please note that we cannot issue refunds for missed classes or cancellations that are made within 48 hours of the class.

Instructor:
Elizabeth Tobey
We proudly introduce to you Elizabeth Tobey of Rogue Valley Farm to School!
Elizabeth grew up on a small farm outside of Portland, Oregon and has had her hands in the dirt ever since. She is grateful for those early childhood experiences growing food and raising animals, and believes it is especially important to provide opportunities for all children to connect to the land and their food in a real, direct way. As she grew up and left home she continued to explore her love of the land, food, people, and how they connect. She spent several years traveling to various parts of the world, volunteering through World Wide Opportunities on Organic Farms, studying permaculture, farming, natural building, intentional community development, sustainable design, language and culture, writing, yoga, and dance. She has been in Ashland for two years and is now living in community on her own small farm, Squawking Hawk Acres, which she is developing as a demonstration site and educational venue.
Learn more about the program she's involved with
Rogue Valley Farm to School http://rvfarm2school.org/