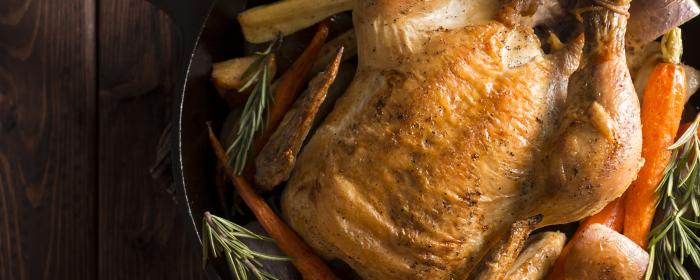 Chicken Done Simply
to
Spend a little bit of time roasting one chicken and the bonus is that several meals are now at your fingertips.
Michelle will teach how simple it really is to roast a tender and super moist chicken, along with caramelized roasted veggies for a deeply satisfying winter meal.
Along with a curry apple chicken salad, Michelle will show you how to create a stock from one chicken that is super easy. She will make a classic chicken soup and a quick Thai coconut chicken soup to taste.
This class will give you the confidence to roast one chicken a week to provide several nourishing meals for your family. Come hungry!
------------------
Owners can save $5 on their registration by entering the promo code "owner" 
Staff can receive their class registration discount by entering the promo code "staff".

Instructor:
Michelle Guerrie
I started my culinary adventures in the third grade with an Easy Bake oven. I vividly remember cooking tiny chocolate cakes under a light bulb and how happy it made my brother and sisters to have a wee bite of an itty-bitty cake. My mother was a wonderful self-taught cook, and she shared her appreciation of food with me. She produced huge dinner spreads with an array of wonderful dishes, and what sticks in my mind is my father's favorite meal of pinto beans, cornbread and lemon meringue pie. My mom would give me the important job stirring the lemon custard for the pie. Later, when I was 12, my mother purchased a café and I learned to wait tables and flip burgers with the best of them.
I love waitressing and cooking. To me, service is an opportunity to give people a magic carpet ride. I have kicked up my serving game a notch and I am adept at tableside carving of game or fish and flaming desserts. How fun is that? The world is my oyster, literally, and I love learning about cuisine, food traditions and cookery from every culture. I am the consummate student of all things cuisine. Food is my passion and I hope to share the beauty of food with people of all ages. It is never too early or too late for cooking skills! My philosophy is delicious, affordable and easy meals can be prepared in 30 minutes or less ~ mental "Mise en place" is the key.
I have trained with chefs from around the world, a couple of my favorites being Julia Child and Jacques Pépin. I am a graduate of the Culinary Institute of America with a culinary arts degree and hold a pâtisserie certificate from Le Cordon Bleu. I have whipped up desserts at a 5-star Aspen hotel, helped in the legendary Chez Panisse kitchen, studied and prepared vegetarian cuisine at Ananda Expanding Light ashram and made breakfast delights at Ashland's  Winchester Inn. I teach the savory and the sweet with a special affection for French, Italian, Mexican, Japanese, Thai, Indian and, of course, delicious American fare.