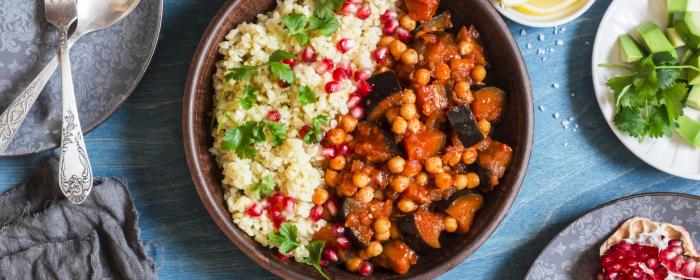 CANCELED - Savoring Morocco's Crossroads Cuisine
to
Due to coronavirus concerns, this class has been canceled. All registrants will receive a full refund.
Enjoy authentic Moroccan cuisine, from sweet to savory (with optional wine pairings).

Tiazza is back in Ashland! Join her for new recipes and flavors from her Moroccan home. The menu will feature a full course dinner paired with wines and wine cocktails. Bring your friends and family and join us for a fun evening. The dinner will be an exotic mix of sweet and savory and a feast for the senses. This class is taught by Tiazza Rose, a frequent Co-op class instructor.

Instructor:
Tiazza Rose
As the second oldest of ten children, Tiazza started cooking at a very young age to help her mother, and eventually took over the task of cooking meals for her large family. Reflecting her roots Tiazza's specialty is Moroccan cooking. Without any formal training she has learned many cooking techniques through host families as she traveled around the world. On top of it all Tiazza is a personal trainer, fitness instructor, belly dance teacher and sports nutritionist. For a little spice in life you can find her traveling the world to new places, enjoying the thrill of not knowing the language, customs or how to get around.
Check out Tiazza's website at http://www.tiazza.com
More Cooking Classes