An awesome and delicious alternative to garlic bread!
(Serving size assumes you will love this as much as we do - but could be shared among four ;))
Meal Type
Side Dishes
Snacks & Dips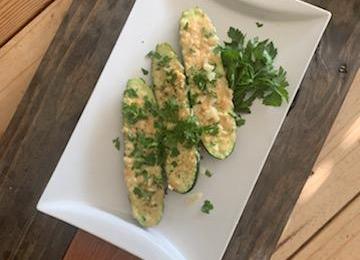 Ingredients
2 medium-sized zucchini
2 Tbsp butter melted
3 cloves garlic diced
¼ cup grated parmesan cheese
1 Tbsp fresh parsley
Pepper and salt to taste
2

Cut Zucchini Lengthwise and poke with a fork 6 times (this will create a place for the butter).
3

Based with butter, sprinkle with diced garlic, pepper and salt to taste. Top with parm.
4

Bake for 20 min  (or grill covered for 10 min). Broil 2-3 min for extra golden brown cheese.