Zucchini, Chile and Corn Sauté
This is an easy summer combo to make a quick dinner. Add to a brunch frittata or wrap it up in a tortilla.
Diet Type
Gluten-Free
Vegan
Vegetarian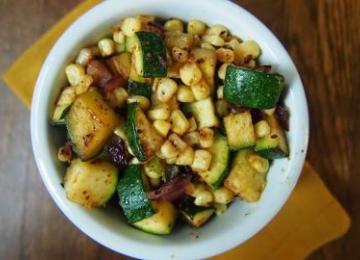 Ingredients
2 ears of corn
4 large Anaheim chiles
2 tablespoons extra virgin olive oil
1 medium size red onion diced
3 cloves garlic minced
2-3 medium size zucchini cut into ½ inch quarter rounds
½ teaspoon sea salt
¼ -½ cup grated cheddar cheese
8 corn tortillas, warmed
1
Cut the kernels from the cob. Set the corn and the cobs aside.
2
Place the chiles on a baking sheet. In a pre-heated oven, broil them until the skin blisters and turns a dark brown. Turn over using tongs and broil on the other side. Remove from the oven and put the chilies in a plastic bag so they sweat. In about 10 minutes, remove from the bag and peel the skin off. Slit the chilies open and remove the seeds. Chop into ½ inch size pieces. Set aside.
3
Heat the oil in a large skillet. Add the onion and sauté for a few minutes. Add the garlic and stir for another minute.
4
Add the zucchini and sauté until it just begins to brown.
5
Add the chile, sauté for a few minutes longer, then add the corn.
6
Add the sea salt. Continue to sauté for a few minutes longer
7
Remove from the heat and top with the grated cheese.
8
Serve with the warmed tortillas.