Here's one for folks who would rather skip the mayonnaise. It's a bit more tangy, but delightfully fresh!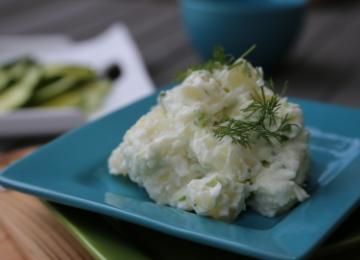 Ingredients
4 pounds of Yukon gold potatoes
1 ¾ cup Greek style yogurt
¼ cup sour cream
2 tablespoons lemon juice
1 tablespoon white wine vinegar
1 tablespoon minced fresh dill
1 garlic clove minced
2 teaspoon sea salt
Fresh ground black pepper
1 cucumber unpeeled but quartered lengthwise seeds removed
1
In a medium pot cover the potatoes with cold water and bring them to a boil over high heat. Cover and reduce heat to medium. Let potatoes simmer until fork tender. This should take about 30 minutes. Let cool completely.
2
In the bottom of a large bowl stir together the yogurt, sour cream, lemon juice, vinegar, dill, garlic, salt and black pepper.
3
Grate the cucumber on a box grater. Remove excess water by squeezing with your hands. Add to the yogurt mixture.
4
Cut the potatoes into quarters or smaller and add to the yogurt mixture. Stir to coat.