Have leftovers and don't know what to do with them?
Renew your Thanksgiving leftovers in this delicious Turkey Pot Pie.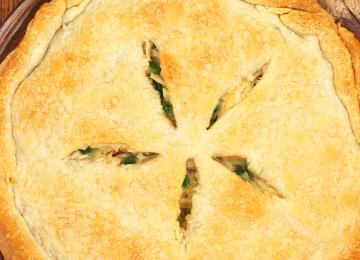 Ingredients
Your favorite Pie Crust - 2 (1 top and 1 bottom)

Ingredients for filling
4 tablespoons unsalted butter
1 lb. cooked turkey breast -cut into small bite size pieces`
1 cup sliced carrots
1/2 cup sliced celery
1/2 cup chopped yellow onion
1 1/4 teaspoons salt
1/2 teaspoon garlic powder
1/2 teaspoon dried thyme leaves
1/4 teaspoon ground black pepper
1/4 cup all-purpose flour
1/2 cup heavy cream
1 cup chicken broth ( Or use 1 and 3/4 cups leftover gravy in place of flour, cream and chicken broth)
1/2 cup frozen peas (or leftover green beans!)
2 tablespoons minced fresh flat-leaf parsley
1
Preheat oven to 425 degrees F
2
Add  butter to a large pan over medium heat. 
3
Once the butter is melted, add carrots, celery, onion, salt, garlic powder, thyme leaves, and pepper. Cook for 7-8 minutes, until the the veggies start to soften and brown and add the cooked Turkey and stir.
4
Add the flour. Stir well, until no dry flour remains. Slowly stir in the cream, then the chicken broth. Cook until bubbling and thick, (Or slowly add gravy and coat mixture) stirring often, 3-4 minutes.
5
Remove from the heat. Stir in the peas and flat leaf parsley. Let this cool for 15-30 minutes before filling the pie.
6
Fit one pie crust into a 9-inch pie plate. Spoon the cooled filling into the pie crust. Top with the second pie crust. Seal the edges of the pie crust together. Cut 3-4 slits in the top crust to allow steam to escape.
7
Place the filled pie plate on a baking sheet. Bake for 30 minutes on the bottom rack of the oven.
8
Cool for 15-30 minutes before slicing and serving.