Thai Coconut Seafood Soup
Need a quick soup bursting with rich flavors? Enjoy this Thai seafood soup, which can be ready in about half an hour.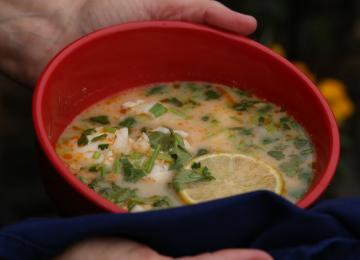 Ingredients
1 Tablespoons of olive oil
1 Tablespoons fresh ginger, grated
2 teaspoons Thai red curry paste
Zest of 2 limes, minced
4 cups chicken broth
1 can coconut milk
2 Tablespoons fish sauce
1 pound of white fish, large dice OR 1 pound of shrimp
Juice of 2 limes
One cilantro bunch, small dice
1
Saute ginger, curry paste and zest in the oil for one minute.
2
Add in broth, coconut milk, and fish sauce. Simmer for 15 minutes.
3
Add in fish or shrimp and simmer for 5 minutes. Take off heat.
4
Just before serving stir in lime juice and cilantro.