One of our favorite recipes we turn to every spring.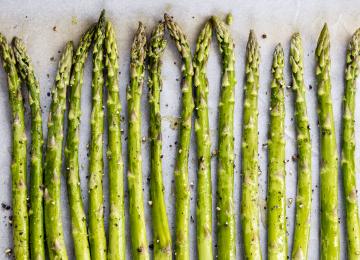 Ingredients
One bunch of asparagus

2 tbsp olive oil

1 ½ tablespoons grated Parmesan cheese

1 teaspoon sea salt

1 teaspoon ground black pepper

2 clove garlic, minced

1 tsp lemon zest

2

Snap woody parts of asparagus off. To do this, feel where the asparagus naturally bends and snaps at the end of the sprig .
3

Lay out on tray and drizzle olive oil. Toss with fingers to coat asparagus.
4

Sprinkle salt, pepper garlic, and toss again to coast
5

Top with parm and lemon zest