Spring Lamb and Lentil Stew
A traditional recipe for lamb that makes a beautiful meal with basmati rice and a spinach salad!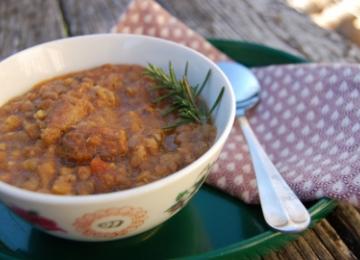 Ingredients
½ teaspoon each ground cumin and coriander
2 teaspoons sea salt
1 teaspoon black pepper
2 pounds lean lamb from the leg or shoulder cut into 1 ½ inch chunks
2 medium onions coarsely chopped
1 2- inch piece ginger peeled
8 cloves garlic
¾ cup fresh mint leaves
2 tablespoons olive oil
1 teaspoon each coriander cumin and cardamom
1 ¾ cup chicken stock
2 tablespoons tomato paste mixed with ½ cup stock
½ cup tomato puree
1 cup water
1 cup brown lentils
1
Combine the spices salt and pepper in a small bowl. Toss with the lamb until the meat is well coated. Let lamb marinate in the spices for up to 2 hours or just make the recipe.
2
Preheat the oven to 325 degrees.
3
Put the onions ginger garlic and mint into a blender or food processor and blend to a coarse paste.
4
In a heavy pan heat the oil over high heat. Put in the lamb and brown on all sides. Reduce the heat to medium and add the paste. Stir and continue to cook for about 5 minutes.
5
Add the spices and cook for 1 minute more. Add the stock tomato paste and puree plus the water and lentils.
6
Stir well and bring to a simmer.
7
Cover the pan and place in the middle of the oven to bake for 1 to 1 ½ hours. The lentils and meat should both be tender at the end of cooking time. Check for salt and pepper garnish with more fresh mint.