Spicy Radish and Carrot Ferment
Prep Time
1.5 days; 30 minutes active
By: Co+op Welcome to the Table
Bright red radishes and orange carrots make this a beautiful counterpoint to just about any meal. Radishes are already a little zippy, so adjust the chili flakes to your tastes. If you want a hotter result, double the red pepper flakes.
Great as a topper for salads or noodle bowls.
Meal Type
Salads & Soups
Side Dishes
Snacks & Dips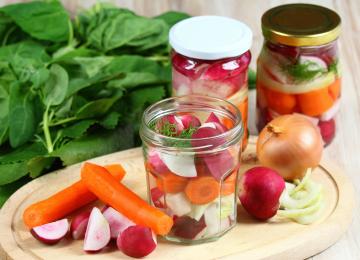 Ingredients
1 pound radishes (about 2 bunches)
8 ounces carrots, about 2 large
1 tablespoons kosher salt
2 tablespoons fish sauce, or tamari
1 tablespoon gochugaru (Korean chili flakes)
1 tablespoon fresh ginger, finely chopped
2 cloves garlic, chopped
1/2 teaspoon sugar
1
Put the radishes in a large bowl and cover with cold water, swish around to remove the dirt. Remove the greens from the radishes, and if in good shape, reserve for another use. Trim the radishes, leaving some stem attached, and use a paring knife to remove any dirt or grit around the stem.
2
Quarter the radishes vertically and put in a large bowl. Peel the carrots, slice on a diagonal, then slice the slices into strips. Put in a medium bowl. Sprinkle evenly with kosher salt and mix well, massaging to work the salt into the vegetables. Let the radishes stand for 30 minutes, and the carrots for an hour or so, test by rinsing a piece of each and tasting.
3
The radishes will be softened but still have some snap. Put the veggies in a colander and rinse them to get rid of a little salt. In a cup, stir the fish sauce, red pepper flakes, ginger, garlic and sugar. Transfer the drained radishes and carrots to a large bowl and pour the fish sauce mixture over them. Mix well and transfer to a glass jar or storage container and cover. Let stand at room temperature for 24 hours, then refrigerate and serve for up to a week.