Smoky Grilled Tofu and Broccoli
Prep Time
1 hour; 20 minutes active
This easy, aromatic, smoky tofu and broccoli relies on a simple marinade to deliver big on flavor. 
Prep the marinade ahead of time for even more flavor!
Recipe by : Co+op, stronger together
Diet Type
Gluten-Free
Vegan
Vegetarian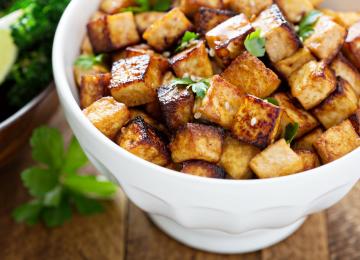 Ingredients
1 pound extra-firm tofu
1/4 cup olive oil
2 tablespoons tamari or soy sauce
3 tablespoons balsamic vinegar
2 cloves garlic, pressed
1/2 teaspoon smoked salt
1/2 teaspoon smoke paprika
1 large stalk broccoli (approximately 1 1/2-2 pounds), cut into florets
1
Drain the tofu and wrap it in a clean kitchen towel. Place on a cutting board with a sheet pan or board on top and let the tofu drain for 30 minutes. Slice into 1/2-inch thick slices
2
In a large flat container with a lid, stir together the olive oil, tamari, vinegar, garlic, smoked salt and smoked paprika. Carefully place the tofu slices into the marinade and turn to coat. Marinate for at least an hour or overnight. 
3
Preheat the grill. While the grill is heating, add the broccoli florets to the marinated tofu and toss to coat. When the grill is hot, swab the hot grill with the vegetable oil.
4
Drain the tofu and broccoli, reserving the marinade for another batch, if desired. Grill over indirect heat, turning tofu and broccoli often, about every 5 minutes, until the edges of the tofu are starting to brown a bit and the broccoli is crisp-tender.