Meal Type
Entrees
Salads & Soups
Side Dishes
Diet Type
Gluten-Free
Vegan
Vegetarian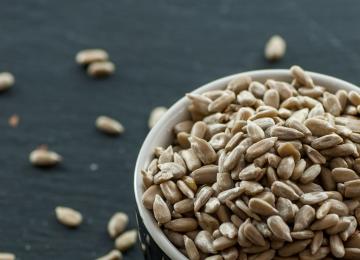 Ingredients
1 cup sunflower seeds
2 cups quinoa
2 large carrots, grated
1/2 bunch green onions, diced
2 celery stalks, thinly sliced
4 radishes, grated
4 green leaves (swiss chard, kale, or spinach-1 cup) thinly sliced
1/2 bunch of parsley
sprouts to liking

DRESSING:
5 tablespoons extra virgin olive oil
2 tablespoons apple cider vinegar
salt and pepper to taste
1
Preheat the oven to 350 degrees
2
Place the sunflower seeds on a cookie sheet. Roast for about 7 minutes or until the seeds are brown. Set aside to cool.
3
Rinse the quinoa in a fine sieve and let drain. Add the quinoa to a pot with 3 cups of water. Bring to a boil and then reduce the heat to a simmer. Simmer for about 15 minutes until the quinoa is tender but still chewy. Remove lid and fluff with a fork. Let cool.
4
In a large bowl combine the cooled quinoa, shredded carrots, green onions, celery, shredded radishes, green leaves, and sunflower seeds.
5
In a small bowl, whisk together all the dressing ingredients.
6
Add dressing to quinoa salad and mix well.