Savoy Cabbage and Farro Soup
This meat and grain filled soup is hardy yet delicious. It is sure to keep you warm on a cold day while filling your belly.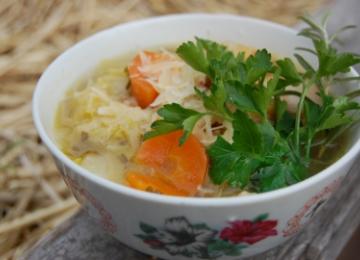 Ingredients
3 tablespoons extra virgin olive oil
1/4 pound ham or 4 slices lean bacon
1 small yellow onion, diced
4 cloves garlic, minced
2 tablespoons Italian parsley, chopped
2 teaspoons fresh rosemary, minced
1 cup farro
1/2 pound Savoy cabbage, chopped coarsely
2 medium carrots, cut into quarter rounds
1 teaspoon sea salt
2 quarts chicken stock or water
Grated Parmigiano Reggiano cheese
1
Heat the oil in a soup pot, add the bacon or ham, and sauté for about 5 minutes.
2
Add the onion, garlic, parsley, and rosemary and cook until the onions are transparent.
3
Add the faro, cabbage, and carrots. Stir and sauté another 5 minutes or so.
4
Add the stock and bring to a simmer. Continue to cook uncovered at a simmer for about 40 minutes or until the farro is tender.
5
Taste and adjust the seasonings. Serve with a garnish of the cheese and a sprinkle of parsley.