Roasted Cauliflower with Spicy Tahini Sauce
Enjoy over rice or quinoa, alongside beans, tofu, or another protein for a complete meal in one bowl.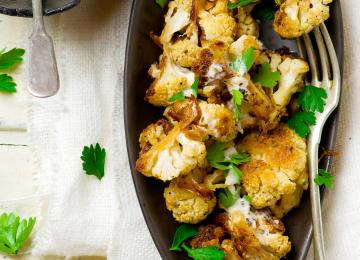 Ingredients
Roasted Cauliflower:
1 head of cauliflower
2 tablespoons extra virgin olive oil
kosher salt to taste
red pepper flakes to taste

Tahini Sauce:
3 tablespoons tahini paste
2 tablespoons fresh lemon juice
1 tablespoon olive oil
4 garlic cloves minced
¼ teaspoon cayenne
kosher salt to taste
Fresh ground black pepper to taste

Garnish
fresh parsley cut small leaves

1
 Preheat the oven to 400°F with a rack in the center position. 
2
Cut florets from the cauliflower stem and place them onto a baking sheet. Drizzle with olive oil and sprinkle with salt and red pepper flakes. Toss with clean hands to coat. Spread evenly over the baking sheet. 
3
Flip the florets halfway through the roasting process, or until they are golden brown and tender with a fork.
4
As the cauliflower is roasting, combine the tahini, lemon juice, olive oil, garlic clove, cayenne and salt in a small mixing bowl. If it's a little thick add a tablespoon of water. Whisk until combined and about the consistency of hummus. Add salt and pepper as desired. 
5
Remove the florets after twenty five minutes or once they are golden brown and tender with a fork.
6
To serve drizzle sauce over roasted cauliflower and garnish with fresh parsley.