Pumpkin Seed Chipotle Pesto
This unique yet flavorful pesto has some kick! Enjoy this pesto as a flavor enhancer to any entree you are make!
Meal Type
Side Dishes
Snacks & Dips
Diet Type
Gluten-Free
Vegan
Vegetarian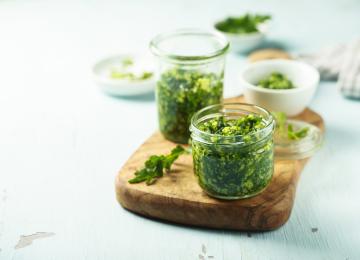 Ingredients
1/2 C. pumpkin Seeds toasted in a dry skillet for about 3 minutes
1 tsp. chipotle chili powder
1Tbs. fresh thyme, minced
1Tbs. fresh oregano, minced
1/4 C. cilantro, chopped fine
1/3 C. extra virgin olive oil
Zest of one lime
Juice of one lime
Sea Salt to taste
1
Process the pumpkin seeds in a food processor or blender until they resemble coarse cornmeal.
2
Place pumpkin seeds and all the other ingredients in a blender. Blend to a pesto consistency.
3
Check the flavor for salt balance.