Meal Type
Side Dishes
Snacks & Dips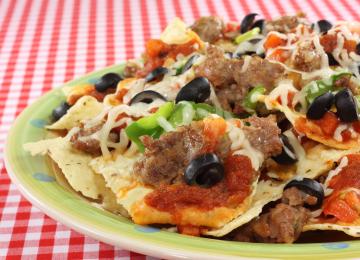 Ingredients
1 bag white corn chips
1 cup mozzarella, shredded (hard not fresh)
½ cup provolone, shredded
1 tbs Italian seasoning
½ lb Italian sausage, cooked
1 tomato (take the center and seeds
out or your nachos will get mushy)
½ green pepper, diced
½ white onion, finely chopped
½ cup black olives, sliced
1 small jalapeño

1
Preheat oven to 400 degrees.
2
Layer a baking dish with a thin layer of chips. 
3
Mix cheese and Italian seasoning together. Top the nachos with the ½ cheese blend. Layer with more chips, rest of cheese blend and other ingredients. 
4
Bake for 10 minutes or until the cheese is melted and golden brown. 
5
Top with salsa (or tomato sauce!)