Classic Vietnamese pho is based on a slow-cooked beef stock, one that takes beef bones and lots of simmering. This easy rendition relies on good boxed stock, quickly infused with star anise, cinnamon and other pho flavors that add exotic, fragrant notes. You can opt for making the soup in each bowl, or making one big pot of soup and ladling it over noodles, whatever is more convenient for you.
Recipe from Co+op, Welcome to the Table
Meal Type
Entrees
Salads & Soups
Side Dishes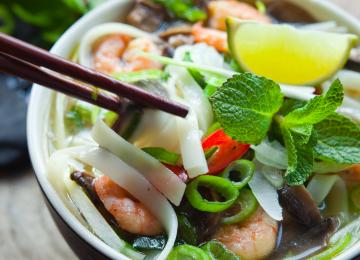 Ingredients
8 cups chicken broth
16 large shrimp, shelled and deveined
1 8-ounce package baked tofu, sliced
2 teaspoons vegetable oil
3 slices fresh ginger
4 cloves garlic, thinly sliced
4 small heads baby bok choy, cut into 2-inch pieces
1 large carrot, julienned
2 cups bean sprouts, rinsed
4 large scallions, sliced on a diagonal
2 large limes, halved and sliced
4 ounces flat rice noodles
2 whole star anise
1 stick cinnamon
1 teaspoon whole black peppercorns
3 tablespoons fish sauce, to taste
1
In a 2-quart pot, heat the oil over medium-high heat, then saute the ginger and garlic just until fragrant, about a minute. Add the stock, anise, cinnamon, peppercorns and fish sauce. Bring to a simmer and lower heat to keep it at a gentle bubble. Cook for 20 minutes. The stock will reduce to about 7 cups.
2
While the stock simmers, chop the bok choy, prep the shrimp, and have all the vegetables in separate piles on a plate. 
3
Cook the noodles, and divide them between six wide soup bowls. Arrange the tofu and bean sprouts on top of the noodles.
4
When the stock is ready, strain it, taste for salt, adding more fish sauce if you think it needs it, and bring to a boil. 
5
When you're ready to serve, simmer shrimp, bok choy and carrot in the stock until cooked, about 3 minutes, then ladle the hot soup over the noodles, tofu and sprouts. Sprinkle with scallions, and serve with lime slices.