Pear and Brie Puff Pastry
Tis the season for gooey appetizers ..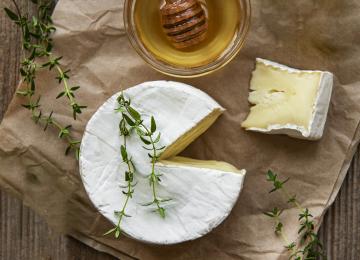 Ingredients
12 X 12 sheet puff pastry
1 round brie (at least 6 inches across)
4 tbsp honey
1 ripe pear - I prefer Comice
1 tbsp butter
1 small shallot
1 tsp thyme
Salt and pepper to taste
1 egg beaten
2
Thaw puff pastry a few hours before you would like to use it. Roll out and set the brie in the middle. Make sure the pastry sticks out at least 3 inches from the brie, you want to be able to stretch the pastry over the brie. 
3
Pour honey over pastry. I like to coat the top and even have it drip over the sides a little. 
Small dice shallots and lightly sauté in butter with thyme. Spoon onto honey-covered Brie.
Dice up pears and spoon over shallots.
 
4
Fold the pasty over brie, honey, shallot, and pear so it creates small folded layers, like a little bun, when it's securely folded poke two small holes with a sharp knife to allow for venting. 
 
5
Brush beaten egg over your creation. This is an egg wash and will make your pastry golden brown nicely. 
6

Bake for 20 - 30 mind or until golden brown