Nacho Mama's Vegan Nachos with cumin sour cream sauce
These are not your ordinary nachos. Ooey gooey vegan cheese, fresh avocado, and spicy diced jalapeños will make you not even want to share with yo-mama.
Meal Type
Side Dishes
Snacks & Dips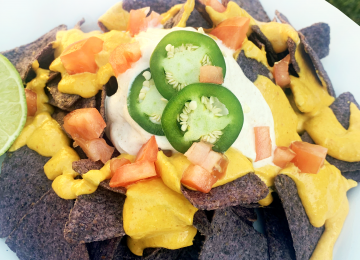 Ingredients
Vegan Nacho cheese
Ingredients
2 cups cashews
½ cup nutritional yeast
¼ cup olive oil
1 lemon for juice
½ tsp turmeric
½ tsp paprika
1 tsp mustard powder
½ jar roasted red peppers
salt to taste

additional: 1 bag blue corn tortilla chips

Cumin Sour cream
Ingredients
1 cup sour cream
or vegan sour cream
1 tsp cumin
½ tsp cayenne
½ lime for juice
salt to taste

optional toppings
1 avocado, sliced
1 tomato, diced
1 jalapeño, diced

1
 Pre-heat oven to 400 degrees. 
2
While the oven is pre-heating, blend all ingredients in a food processor for nacho cheese until smooth. 
3
In a separate bowl, combine the ingredients for the cumin sour cream.
4
On a sheet pan, place tortilla chips in a layer and top with the vegan nacho cheese and any other additional toppings.
5
Bake in the oven for 15 min and serve with a drizzle of the cumin sour cream.