Grilled Salmon with Herbed Aioli Sauce
This recipe honors the wonderful flavor and texture of fresh salmon. Bust out your grill and whip up this fast entree.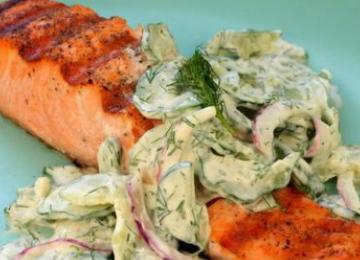 Ingredients
Herbed Aioli:

½ cup mayonnaise
2 tablespoons extra virgin olive oil
1 clove garlic minced fine
1 tablespoon fresh lemon juice
1 tablespoon fresh dill or tarragon minced
1 tablespoon parsley minced
1 tablespoon scallions minced
½ teaspoon sea salt
Black pepper to taste

Salmon:

1 teaspoon cane sugar
½ teaspoon cumin
½ teaspoon smoked paprika
½ teaspoon sea salt
4 six ounce salmon fillets skin on one side
1 tablespoon extra virgin olive oil
1
Whisk all ingredients of the Aioli together in a small bowl and set aside.
2
Combine the sugar, cumin, paprika and salt.  Rub on the flesh side of the fillets and let sit for at least 30 minutes.
3
Brush the salmon lightly with the oil.  Place on the grill skin side up.  After about 5 minutes, flip the salmon over and cook just until done, another 3 to 5 minutes.
4
Place a fillet on a plate and dollop with the aioli sauce.  You may want to serve the fish with mixed greens under the fillet.