Great Garlic and Eggplant Pizza
Eggplant is an amazing vegetable, but it needs to be finessed a little to keep bitters at bay. Garlic is the superpower in this dish, transforming the eggplant into a silky smooth, robust pizza topping.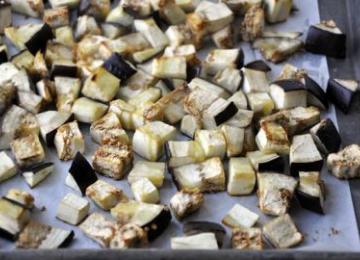 Ingredients
1 large eggplant cut into ½ inch pieces
6 cloves garlic, peeled and chopped
2 Tablespoons extra virgin olive oil
2 Tablespoons water
1 Tablespoon red wine vinegar
1 large New Sammy's pizza crust
Olive oil as needed
¼ cup fresh basil, chopped
1/3 cup Oregonzola cheese, crumbled
1
Pre-heat oven to 450 degrees.
2
Combine the eggplant and garlic in a large baking dish. Toss with the olive oil and water. Bake until tender, about 30 minutes.
3
Let cool, place in a medium-size bowl, and add the vinegar. Crush with your hands or the back of a fork to make a textured spread.
4
Lightly oil the pizza crust. Spread the eggplant puree on top. Add the basil, then the cheese.
5
Bake for 5 minutes in the pre-heated oven.