Sweet salty, creamy and decadent.
This summer treat is perfect for an afternoon snack or mouth-watering appetizer.
To truly indulge yourself pair with a glass of sparking red wine.  
Meal Type
Desserts
Salads & Soups
Side Dishes
Snacks & Dips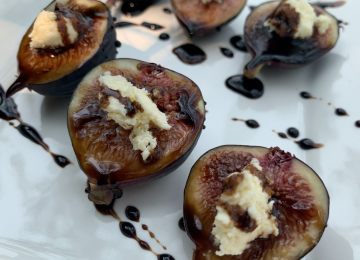 Ingredients
10 Figs - (we used Black Mission, but select your favorite)

½ Cup By George Sea Salt Cheese

½ Cup Balsamic Vinegar

3 Tbsp Honey

Sea Salt or Pink Himalayan Salt to taste (don't be shy)
2
Scoop a dime size bit of cheese onto each fig
3
Add honey and balsamic vinegar into a saucepan and cook on medium heat for 5 - 10 minutes until reduced by at least ⅓.
4
Let cool (mixture will thicken as it cools so don't over reduce). 
5
Drizzle on cheese and figs and garnish with salt. 
6
Feel fancy, accomplished, and enjoy!