Eggplant with Mango Chutney
This slightly smoky and a little spicy vegan entree is great for a warm summer day.
Serve it over rice (coconut rice is a wonderful compliment to this dish) and pair it with a dry rose, dry sparkling wine, or a good lager.
Diet Type
Gluten-Free
Vegan
Vegetarian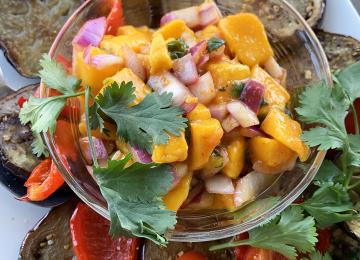 Ingredients
For Eggplant:
1 Large Eggplant
2 Red bell peppers
5 tbsp olive oil (at least)
Salt (smoked salt optional)
Pepper to taste

For Mango Chutney:
3 Honey Mangos
½ Red Onion
2 Garlic cloves
1 tbsp sriracha
1 jalapeno (optional for extra spice)
1 tbsp Lime juice
2 tbsp fresh cilantro
½ tsp salt
1
Eggplant: 
Cut off stem and butts of eggplant and cut into ½ inch circles.

Cut bell peppers into 1-inch cubes.

Drizzle generously with olive oil and season with salt and pepper.

Eggplant soaks up olive oil so be generous.

Set aside. 
Mango Chutney
Dice up red onion, jalapeno (optional), and garlic.

Mix in lime juice and salt.

Let sit for 5 min.

While you are waiting, dice up your mango and cilantro.

Stir into your onion mixture along with cilantro and sriracha. 
Grill eggplant
Preheat to medium-high heat

(You may want to place your eggplant and bell peppers in a grill basket to keep from falling through).

Grill on each side for 5 min or until soft. 

Serve with mango chutney. 
Enjoy!