It's almost spring and we can taste it! This pairs well with rosé and a sunny 70-degree day.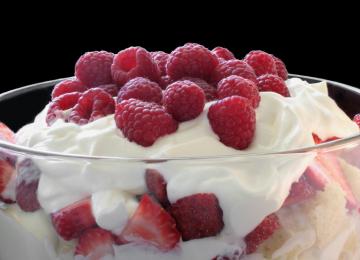 Ingredients
1/2 cup plus 2 tablespoons sugar
1/4 cup fresh lemon juice
1 cup seedless raspberry jam
2 cups raspberries
2 cups strawberries
2 cups heavy cream
1 1/2 pounds favorite pound cake

1
In a small saucepan, bring 1/2 cup sugar, 1/4 cup water, and lemon juice to a boil, stirring to dissolve sugar, 1 to 2 minutes. Let cool.
2
In a small bowl, combine jam with 3 cups of raspberries and strawberries, mashing slightly. In a large bowl, whip cream and 2 tablespoons sugar to stiff peaks.
3
Slice pound cake 3/4 inch thick; brush both sides of slices with lemon syrup.
4
Fit 1/3 of slices snugly in the bottom of a 4-quart trifle dish or another glass bowl, trimming edges if necessary. Gently spread top of layer with 1/3 of raspberry mixture, and then 1/3 of whipped cream. Repeat to make two more layers; garnish with remaining cup raspberries and strawberries. Refrigerate until ready to serve, up to 24 hours.